Motorcycle Route Author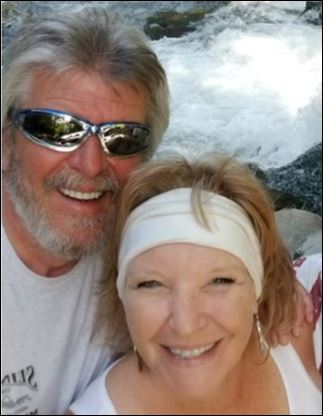 By ThomSS (3609 McR Points)
on Dec 30, 2020
Written Directions
This route forms the shape of an "S" and is made up of a couple of different segments. Some of these segments had already been posted on McR and to prevent this route's path from covering those routes, only the southern most section of this route is displayed in the map above and a link to a separate google map is provided here (this is what you should use to ride the "Crooked S" - https://www.google.com/maps/dir/40.3738951,-81.0997249/40.4204063,-81.2171192/40.3081297,-81.1491037/Deersville+General+Store/272+South+Water+Street,+Uhrichsville,+OH/@40.3448466,-81.2710653,11z/data=!4m27!4m26!1m5!3m4!1m2!1d-81.1553335!2d40.386122!3s0x88368caff163a615:0xc22c0f4fd79ba54d!1m0!1m0!1m10!1m1!1s0x0:0x4eeab98444ae451!2m2!1d-81.1896835!2d40.3076853!3m4!1m2!1d-81.3168574!2d40.3738838!3s0x8836f7180c5ff3b5:0xaf4ac2e37ab7c73c!1m5!1m1!1s0x8836f9fbfb44cd29:0xae4f659cddc6850e!2m2!1d-81.3460648!2d40.386343!3e0. An illustration of the routes map/path is included below in the Additional Info section. Here are the written direction for the Crooked S: You can start at either point, east end (Gundy Ridge Rd) or west end (Uhrichsville), description is from east end. At intersection of OH-646 & CR-44/Gundy Ridge Rd, head west on CR-44/Gundy Ridge Rd. Ride 9.5 miles to stop sign at OH-151… turn left onto 151 West… ride 3.4 miles to stop sign at US-250, turn left onto 250 East… ride 9.8 miles to CR-55/Deersville Rd, sign for Tappan Lake at intersection, turn right onto CR-55/Deersville Rd... in about a mile and a half CR-55/Deersville Rd becomes CR-2/Deersville Ridge Rd, after passing thru Deersville CR-2 becomes Moravian Trail Rd. Follow about 12 miles to stop sign at Water Street in Uhrichsville.
Scenery
A nice 39 mile twisty-hilly ride along a couple of ridges, also sweeps along north side of Tappan Lake, twists around south side. Has its share of scenic views and points of interest as you ride around Tappan Lake, you'll go past Tappan Lake Park, Deersville General Store (a popular stop for bikers). Actually about 75% of this route is part of the Ohio Scenic Byway called "Tappan-Moravian Trail".
Drive Enjoyment
For the most part pavement is good, to great, places CR-2 is the poorest section, but its not bad. Most of CR-44/Gundy Ridge has fresh pavement. Gundy Ridge has hills and twist with some canopy from time to time, US-250 sweeps along Tappan Lake with many nice views. The county roads on last section after crossing Tappan Lake snakes ya thru the country side, past Tappan Lake State Park and Deersville. Runs along a ridge with a mix of rolling hills, farmland, tree line, and some some canopy.
Tourism Opportunities
Tappan - Moravian Trail Scenic Byway, Tappan Lake, Tappan Lake Dam, Tappan Lake State Park offers camping, fishing, boating, hiking. The historic village of Deersville founded in 1815 prospered in the stagecoach days. The Deersville General Store is a must stop, listed on the National Register of Historic Places, they serve up their famous homemade ice cream, also sandwiches, deli and seating, A neat, little, old country store. Several places to picnic along and around Tappan Lake region. Clendening and Piedmont lakes/dams not far away. There is a railroad museum in Dennison called The Dennison Railroad Depot Museum, can't speak for it, never been there or even by it.
Motorcycle Road Additional info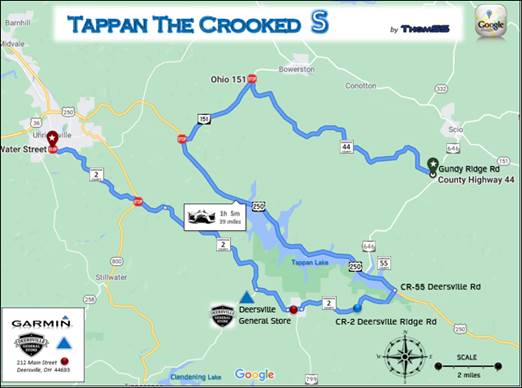 Here is a map of the route. Use this or the google maps link in the direction section.

As stated much of this route is part of the Tappan - Moravian Trail Scenic Byway, two beautiful lakes surrounded by heavily wooded hills. This trail was originally used by Delaware and Wyandotte Indians, then by Moravian Missionaries and then became a major stagecoach route. Gas in Uhrichsville/Dennison