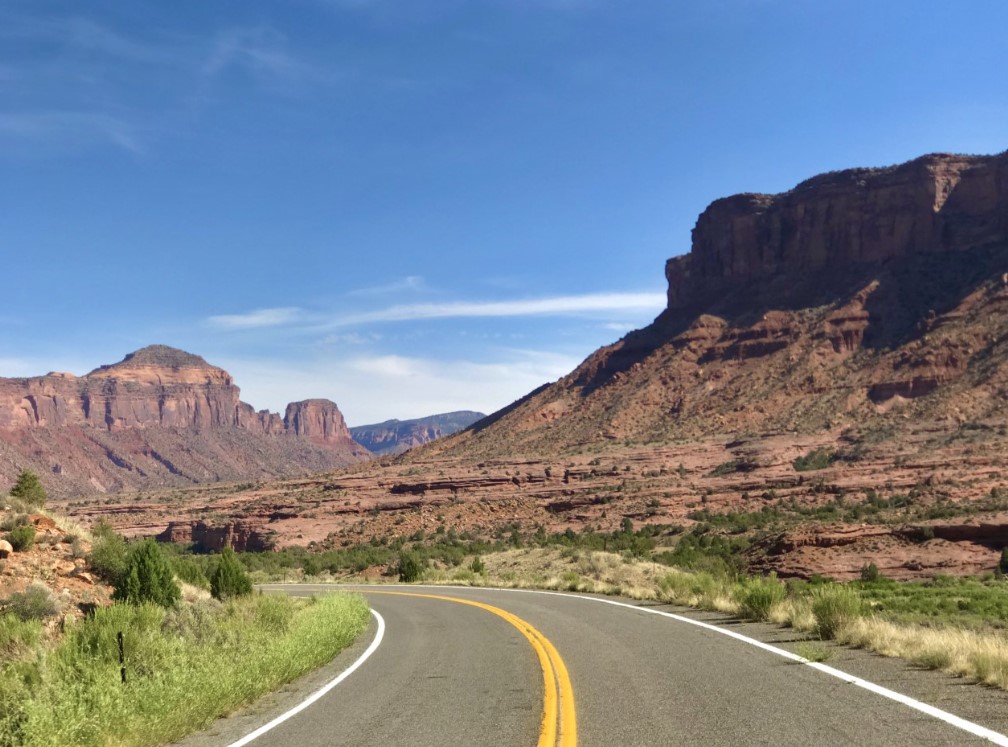 Unaweep Tageguache Scenic Road – CO 141
Difficult to say ... IMPOSSIBLE not to love!!!
I've been taking an annual motorcycle trip with my dad for the last few years and this year we decided to stay in my home state of Colorado due to the uncertainty with the Coronavirus and how that might impact our travels (oh the sacrifice I was making by restricting our trip to riding through western Colorado!!). This year, my nephew Tyler joined us, as he recently got out of the Army (after serving tours in Iraq and on our southern border) and was waiting for college to start in the fall so he had some free time to work with. I was driving my "project bike" 2004 V-Star 1100 (I bought it from a guy who laid it down and I've been slowly restoring it on a shoestring budget for the last few years), my dad was driving his 30 year old vintage Yamaha Venture Royal that is still purring along after all these years, and Tyler was on his Honda CBR 600 … so our mini biker posse covered a wide chunk of the spectrum of street bikes with a cruiser, a bagger, and a sport bike (see picture below; from left to right: me (Bill Belei Jr.), my dad (Bill Belei Sr.), and my nephew (Tyler Mazzaro).
We started out in Colorado Springs on a Weds morning and took CO Route 115 down to Canyon City. Route 115 is listed on MotorcycleRoads.com as part of the Denver to South Park Basin Loop and is really a great little road to get out of Colorado Springs and enjoy some nice relaxing miles on great pavement surrounded by gentle hills of red rock.
CO Route 115, at this point heading southwest, intersects with US Highway 50 heading East/West in the town of Penrose, CO. From here we headed west of US Highway 50 towards the mountains. Before you get up into the mountains, you have to pass through Canyon City, CO … a great middle size rural Colorado town but not the most fun to drive through under the hot Colorado sun as the traffic goes right through the heart of town where you have a mix of the local traffic along with the folks heading up into the mountains with trailers, campers, and the like … so be prepared to chug you're way for a few hot miles as you pass through.
One off topic yet interesting note is a town you'll pass as you enter into Canyon City is Florence Colorado. This town is home to the USA's "Super Max" prison and the most notorious convicts (911 planners, the Boston Marathon Bomber, Ted Kaczynski (the Unabomber), Robert Hanson (a former FBI agent and known to those of us that hold/held security clearances as one of the most infamous traitors to our Country, Terry Nichols (co-conspirator in the 1995 Oklahoma City bombing, and the ultra-infamous El Chapo).
After you leave Canyon City you start to climb upward a bit before leveling off and following the meandering path of the Arkansas River to your right (north). This section of Highway 50 is noted on MotorcycleRoads.com as The Arkansas River Road and is a fantastic section of road as it not only hugs the path of the raging and refreshing Arkansas River as it meanders it's way up towards the mountains, but major portions of it were paved this year and so the road surface is ideal at this point (summer of 2020). This road can get pretty crowded on the weekends as it is the primary way to get up into the mountains for folks coming up from the Pueblo area (in the top 10 largest city in CO) and the area's tourist attractions (the Royal Gorge Bridge and park, whitewater rafting, rope courses and zip lines, etc.) are all growing. This route ends up taking you to the nice mountain town of Salida, CO where you'll have plenty to choose from in terms of places to eat, fuel up, and check out some tourist focused shops if that's what you're looking to do. From there you continue west up through Monarch Pass, down into Gunnison, and past they incredibly beautiful Blue Mesa Reservoir (one of these days, I'm going to get the family up there for some boating or fishing). We stayed on Highway 50 into the town of Montrose, CO and then got on US 550 south and headed down to Ridgeway CO. I need to point out that US 550 takes you to the famed Million Dollar Highway and which is part of the most popular motorcycle ride in all of Colorado – the San Juan Skyway! As much as a love that route, this year we had to get to a Colorado motorcycle ride that is currently ranked #4 in Colorado and yet we had never tried – the Unaweep Tabeguache Scenic Road - CO 141. So to get here we cut over west on CO Route 62 (which is the northern portion of the San Juan Skyway (see photos below) and a great 28-mile ride in itself) and made it to Placerville, CO and the doorstep of the Unaweep Tabeguache Scenic Road - CO 141.
To start the Unaweep Tabeguache Scenic Road - CO 141, you get on to Colorado Route 145 heading west-northwest. We didn't know what to expect as we were in essence driving away from the San Juan Skyway which is one of the most popular motorcycle roads in the world and my personal favorite in Colorado and heading northwest towards Western Colorado, an area I simply did not have much experience riding. I had been to Grand Junction Colorado a few times and although it is beautiful in a stark, dry, rocky, high-desert scenery type way, it's not something that I prefer as compared to the San Juan Skyway's alpine green paradise scenery. But, again, the motorcycle ride was ranked 4th on the site and I was committed to seeing why this route in a remote part of Colorado was ranking so highly … so we began seeing why as we turned on to CO Route 145!
The Unaweep Tabeguache Scenic Road - CO 141 starts out immediately as a 5-star scenic route as this section of the ride follows the San Miguel River on the south side of the road, rock outcroppings, cliffs, and dramatic hills on the right side of the road, and periodic mountain peak views popping out along the horizon (see photos below). The road sways from the side to side as it hugs the path of the guiding river to its south (left side of photos).
After Route 145 crosses over the San Miguel River, the ride starts to climb and really offers some great twisties and step elevation grades with the added bonus of great scenery off to the north as you climb high above the river valley below (see photos below). One note on this section of the ride is that there was a lonely looking road following the San Miguel river in the valley below and it was paved! I regret not doubling back and taking this road but it was getting late in the day and we needed to get to our hotel room and get some dinner in us as we had put in about 7-hours of riding at this point. Later, at the hotel, I reviewed the maps and saw that the lonely little road, is called Sanborn Park Road (47Z Rd) and apparently is a back way all the way over to Montrose over the mountains (my guess is that it turns to gravel at some point but for the portion that it is paved, it has to be a great ride … if anyone has ever driven that route, please submit it to the collection by using the Add-New-Route form on MotorcycleRoads.com.
After climbing up to a plateau, you leave the river valley behind and the road flattens out and you have some great views of mountain peaks in multiple direction (the San Juan Mountains are behind you, the peaks from the Uncompahgre National Forest to the north are visible and some very alluring distant mountains to the west are visible (later I determined these are mountains/peaks located in eastern Utah such as La Sale Peak, Mt Waas, and Manns Peak). In general, the scenery from up on this platue is expansive in all directions as you drive through farms and some great open scenery (see pictures below).
Eventually you drive through the quaint little Colorado mountain town of Norwood Colorado (see pictures below).
Continuing west of Route 145 eventually you merge on to Co Route 141 and the scenery begins to dry out a bit with more rocks visible and arid landscapes as you descend into the town of Naturita, CO (see pictures below).

In Naturita we settled in at the Rimrock Hotel, a nice newer place in town with clean rooms, and a nice restaurant in the hotel.
The next morning we continued our ride of the Unaweep Tageguache Scenic Road – CO 141 from Naturita, and headed west and eventually turning more northwest. It is here where the ride quickly reveals how this route is rated the 4th most popular motorcycle ride in Colorado. Quickly the scenery turns into red cliffs following the zig-zagging path of a the San Miguel River which about 28-miles outside of Naturita, CO merges into and becomes the Dolores River. The rock formations are dramatic and invigorating … I commented to my dad at one of the stops that they reminded me of the scene in the classic Pixar movie Cars when Lightning McQueen is following Sally Carrera as they are traveling through classically beautiful red rock scenery (… I have 4 kids, so yes, I watch more than my share of kids movies and easily recall & live for great animated scenery like that). We found out later that these collection of bulging rock wall formations are part of the Dolores River Canyon and made of Wingate Sandstone (an incredible geological formation stretching from Arizona, Nevada, Utah, and into Colorado). This is stunning display of scenery that unfortunately, very few people will ever get to see in person (see pictures below including photos of a couple of info placards at some of the point of interest pull off spots). I put together about a 5-minute video of this section of the route that you should check out if you want to see how impressive the scenery surrounding the road is.
Escortxguide.com
One of the great attributes of this particular motorcycle ride is that even though it is among some dramatic red rock desert scenery, the fact that the Dolores River is always along the road and refreshing the fauna of the its valley with life giving water, lovely lush green vegetation is present at nearly all times to add to the hue of the crimson cliffs (see pictures below).
Eventually we arrived at the town of Gateway, CO and the not only did the route turn from Northwest to a Northeastern direction but the scenery went through some dramatic direction changes to as it began to get more lush and green (see pictures below) as it initially climbed in elevation and brought us closer to Grand Junction, CO.
The route stayed nice and green for a bit longer but eventually, the route seems to top out in terms of the green scenery and starts to turn more dry and arid as you get closer to Grand Junction, Colorado … still beautiful just different (see pictures below).
I would suggest that if you take this ride in the middle of summer like we did (in mid-June) that you do your best to plan for an early morning or evening ride to escape the powerful Colorado sun beating down on you that you would deal with if you take such a ride in the hotter parts of the day. And, keep in mind that this route offered fuel stops few and far between so you will need to gas up before you start your route no matter if that is at the northern starting point of Grand Junction or the southern entrance near Ridgway, Colorado.
Overall, we're glad we made the trip over from Colorado Springs to western Colorado to ride the Unaweep Tageguache Scenic Road – CO 141. This route clearly deserves to be among the Top 5 motorcycle rides in Colorado and I believe that if the route was not in such a remote section of Colorado (relative to the main population centers along the front range like Denver, Colorado Springs, Ft. Collins, etc.) I believe this route would actually be rated higher than its current #4 ranking. Particularly if you enjoy the stark scenery of red desert tones and dramatic cliffs enhanced by the vibrant green Dolores Canyon River valley ... and the typical expansive blue sky's Colorado routinely backdrops its world renowned scenery with, this may become one of your favorite rides of all time.
Note: we combined this ride with a couple of other fantastic motorcycle rides in Colorado on the way back:
- The Black Canyon Run (currently the 5th most popular motorcycle ride in Colorado)
- Grand Mesa - Colorado Route 65 (currently the 8th most popular motorcycle ride in Colorado)
- And the very short by very awesome Canyon City Skyline Drive