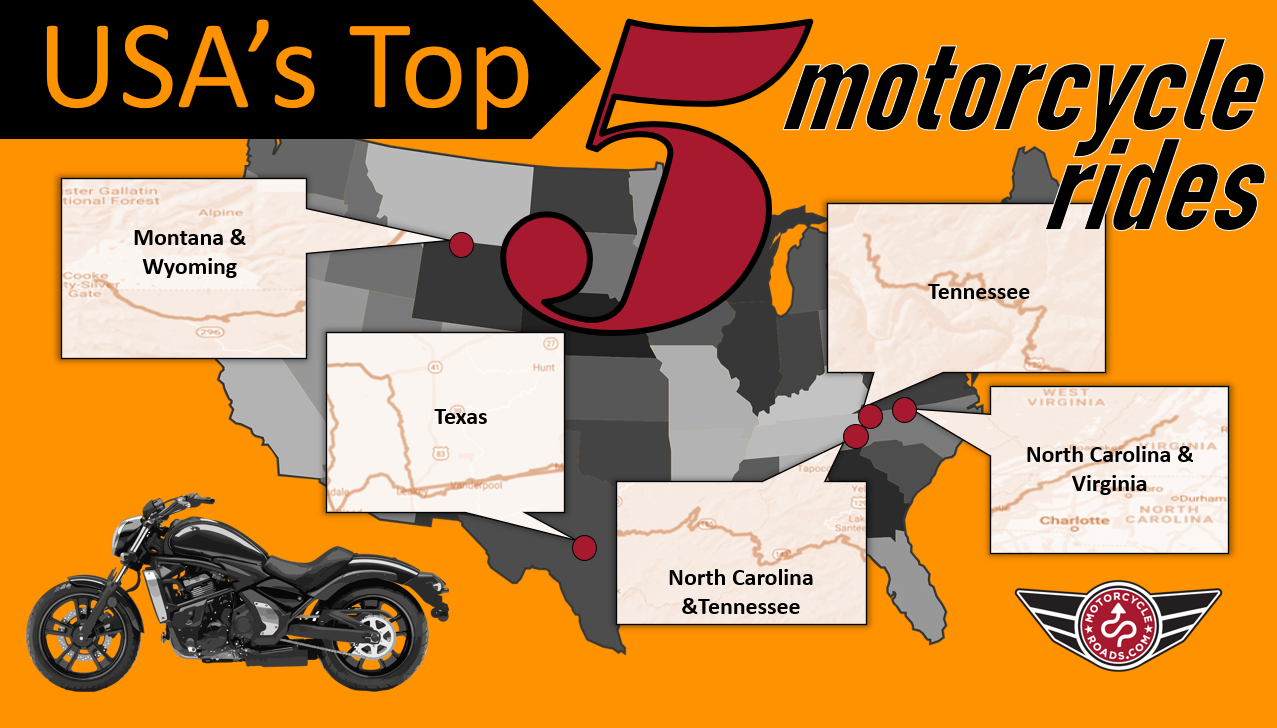 What are the Best Motorcycle Rides in the USA?
(Updated to help you plan for the 2021 Riding Season!)
To produce this guide to the Top 5 motorcycle rides in the USA, we looked back at all of the 2020 motorcycle riding season's data gathered by visitor activity on the MotorcycleRoads.com (McR) web site. This motorcycle riding data comes in from the millions and millions of web site page views displayed when a visitor arrives at McR (1 million plus riders visit McR each year) and clicks around to research the best motorcycle rides in the country by viewing the various state listings of best motorcycle rides and then when they find a motorcycle ride they may be interested in, they click on that motorcycle ride's description page. It is there where they can see a description of every motorcycle ride's scenery quality, the riding excitement of that route's path, and then what we call "tourism opportunities" ... in other words, what can a motorcycle rider do when its time to pull the bike over, stretch your legs, and take in some of the local sites or attractions. You see every motorcycle ride description page includes this basic description for each motorcycle ride. But, it gets better when riders (LIKE YOU) come to these pages, add their comments and ratings to rides they have ridden and even add their own photos & videos to help other riders, really figure out if this is a motorcycle ride that may be "up their alley." McR has been doing this for over 20 years now as I started the site way back in 1998 when I was a lonely lieutenant stationed at an Air Force base in southwestern Illinois. At that time, I was new to the area and began exploring on my motorcycle. After a lot of not so great routes, I finally started discovering some really great motorcycle roads in the area (one of my favorites if you are ever in the St. Louis area is the Great River Road). That's when the idea occurred to me - why isn't there a website where you could go and get suggestions on motorcycle rides in the local area ... favorites of other riders might become favorites of mine. So keep in mind, this is back when the Internet was just really starting to come of age (how many of you are old enough to remember the strange whining noise of a modem connecting to the Internet or the America Online voice saying "you've got mail!"? Long time ago...). Anyways, so I kind of figure out how to write some HTML code, reserved a domain name (the original site was called USA Ride Guide), and added the routes that I was aware of and began the SLOW process of waiting for other motorcycle riders to stumble onto my site on the Internet and SLOWLY add there own rides, pictures, comments.
So basically the website you are visiting now is the culmination of over 2-decades of riders adding their "2-cents" on what rides they like, don't like, and their other experiences advice, images, etc. And so over those 2-decades we've finally gathered enough regular visitors to come up with some pretty telling statistics about what roads are hot and which are not and that is basically what makes these "Top X motorcycle rides" list possible. So without any further delay, let's start telling you about the Top 5 motorcycle rides that have risen to the top during the 2020 riding season and are sure bets to be among the greatest motorcycle rides you will ever have the pleasure of riding!
To keep this guide a bit suspenseful, I'll start out by starting the listing the Top 5 motorcycle rides in reverse order starting at #5 and working my way down to the #1, best motorcycle ride in USA (again, all based on last year's McR data which changes each year so this is a "snapshot in time" kind of ranking):
This motorcycle ride in North Carolina and Virginia is a classic Americana road trip king of route ... right up there with the small other handful of classic Americana routes that would include The Pacific Coast Highway, and Route 66. This wonderous mountain ride travels through the Appalachian mountains in western portions of North Carolina & Virginia. Of all our Top 5 motorcycle rides in the USA, this one is BY FAR the longest at 469 miles. Additionally, the speeds are kept pretty slow on the route (typically below 45) so it will most likely be a multi-day motorcycle ride for most of you. Be that as it may, this is a route that should be on every motorcycle rider's bucket list of the best motorcycle roads in all of America. It is very popular with the 4-wheeler crowd to (automobile traffic) so you won't be alone but crowded roads are generally not a problem. And the government keeps the road pavement conditions up so you'll have a smooth ride of mostly sweeping curves with awesome mountain scenery for hundreds of miles. What a great motorcycle ride to take with a group or as a couple ... this one should be on your radar for your future motorcycle riding excursion plans.
The incredible Beartooth Pass motorcycle ride lies up in a remote portion of central Wyoming and southern Montana and has been a dominant Western motorcycle road for about as long as I've been creating listings of the best motorcycle rides in the USA (the first was in 2013). As I mentioned, this route is in a remote area and so you'll have to commit to a planned trip here (unless you just happen to live in that area of the country) and towns/cities are not very close nearby so plan appropriately with gas, food, lodging etc.. But once you get their you'll be treated to one of the most intense and best motorcycle rides in the US West. Yet a word of warning, make sure you are checking local weather and road conditions as the route travels at high elevations which are subject to cold weather and snow almost literally year round (you'll probably see piled up snow from the plows still next to the road as late as July and as early as September). In any case, with the right planning and accommodations lined up, this could be the most epic motorcycle ride you may take in your entire life. And, you'd be smart to also take in another American institution of an attraction nearby as the ride is only a short drive to Yellowstone National park and the inspiring Grand Teton mountains that you see in so many movies over the years.
When it comes to notorious motorcycle rides, you'll find nothing that outshines the Tail of the Dragon (what some riders also call simply - Deal's Gap). At the number 3 spot in the Top 5 motorcycle rides in the USA is a route that lives in the shadow of the epic motorcycle ride - Tail of the Dragon but many riders over the years swear is a better ride for a variety of reasons. First, for the fact that this route is far less known to the riding community than its legendary neighbor slightly to the north, so the traffic, crowds, and law enforcement attention on this ride are really what a lot of riders love about it. And, couple that with what many say is better scenery (the Tail of the Dragon is much more nestled into forest areas), is why many riders prefer this route. Either way, if you are in the area, you need to get on the Cherohala Skyway and find out why this route has risen so fast over the years to become a perineal favorite of motorcycle riders coming to North Carolina and Tennessee. The route has plenty of spot to pull over, take photos, and stretch your legs if you're up for small hikes. And, the route is popular enough that there will always be riders passing by if you happen to have mechanical troubles and need a little hand.
Coming in at #2 of the best motorcycle rides in the USA listing is a route that stands out for a variety of reasons. First, it is the only route in our listing that isn't in a mountainous area but instead meanders its way through a series of hills and over a collection of creaks spread out in the beautiful Texas Hills country area (generally west/northwest of San Antonio Texas area). This is the second longest route in our listing at just over 100 miles and is by far the route furthest south in the USA. Additionally, the route in a way seems to "anger" some riders for its popularity as you will find many riders who seem to have it out for this route and its ability to rank at the top of the list each year. In fact, the route has from time to time, taken the #1 spot as the top motorcycle ride in the USA ... the competition between this route and the current #1 motorcycle ride in the USA is like an epic battle between two foes that ebbs and flows over time with one getting the best of the other at different points in time. But, as I compiled the data for this years listing of the Top 5 motorcycle rides in the USA, the Three Sisters simply was at the #2 spot and so you see it listed here. Either way, if you are looking for a great southern & Texas rural motorcycle ride through some tranquil oak tree forests, green pasture land, rolling hills with stone cliffs, and meandering over or nearby trickling creaks, look no further than the Three Sisters awaiting your motorcycle ride deep in the heart of Texas!
At the #1 spot is an ultra-popular motorcycle ride that every year is either at the #1 spot of occasionally gets bumped down to the #2 spot (see the rivalry described above) but is always to be considered among the best of the best motorcycle rides in the USA by far. And, the respect and awe at this route attracts needs to be taken into account against the fact that it is BY FAR the shortest motorcycle ride in the entire listing of best motorcycle rides as it is only a mere 11 miles?!?! So how is it that a route that only covers such a short strip of blacktop can be this popular and be this well known not only in the USA but also much of the rest of the riding community across the world? Well it seems to be all about the curves as there are reportedly 318 curves, jam packed, compressed, stuffed, and smooshed into those little 11 short miles. And, when you give riders something most of them love like this, then you have the makings for a truly unique and unquestionably notorious motorcycle ride, with an epic name to match - The Tail of the Dragon. And a road this popular, as if it didn't have enough to offer also seems to have more names than any other route in the USA as uncle Sam calls it US Highway 129, and yet riders call it Tail of the Dragon, Deal's Gap, The Dragon's Tail, or simply - The Dragon. Anyway you slice it, this is kind of like the Super Bowl of motorcycle rides and draws motorcyclists across the country and world to its black top each riding season. Keep this in mind as the road can be simply congested at times particularly on the weekends. And, with this amount of motorcycle frenzy pointed at it, it also unfortunately claims motorcycle rider lives over the years as riders either drive beyond their abilities and/or riders get distracted and simply make mistakes. Due to its popularity and its unfortunate habit of taking the life of some unfortunate riders, the police presence along the rider can be strong as local law enforcement tries to maintain the delicate balance between safety and allowing riders to "have their fun." Either way, this route in 2020 had another banner year (despite the COVID issues) and will perpetually be a top motorcycle ride in all of the USA.
If you enjoyed this guide and would like to see some more in-depth coverage of the Top motorcycle rides in the USA, you need to check out the guides a put out using a similar methodology for each of the 4 regions of the USA. For your convenience here are links to those guides:
Interested in more motorcycle ride articles like this?
Tail Of The Dragon, Head, Back, And Claw
The Famous Tail of the Dragon (AKA The Dragon's Tail) If you ride a motorcycle and have not heard of the Tail of the Dragon or Dragon's Tail, the…
---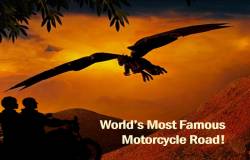 The Dragon Motorcycle Ride - World Famous Motorcycle Road (AKA Deals Gap Motorcycle Ride)
The Dragon – Legendary Motorcycle Ride The Tail of the Dragon, also known as simply "The Dragon" (or by a name that seems to be fading away over the…
---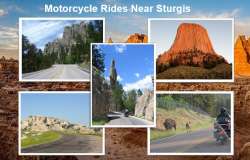 Best Motorcycle Rides Near The Sturgis Motorcycle Rally
Year after year, MotorcycleRoads.com provides an ever growing registry of the most popular motorcycle roads and rides in the USA, Canada and abroad…
---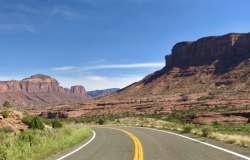 Father-Son Motorcycle Trip 2020 To Western Colorado
Unaweep Tageguache Scenic Road – CO 141 Difficult to say ... IMPOSSIBLE not to love!!! I've been taking an annual motorcycle trip with…
---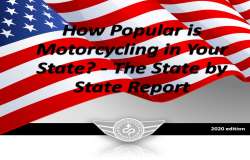 How Popular Is Motorcycling In Your State?
Putting it bluntly, motorcycling is more popular in some states than in others yet there is no obvious or easy "mathematical formula" to calculate…
Note 1: All facts and figures below were gathered during early Jan 2020 and will change over time as new motorcycle roads are added to the collection.
Note 2: How were these popularity ratings calculated?
A motorcycle road's popularity can be based on a wide variety of factors. Our analysis considered some obvious indicators of motorcycle road popularity such each roads' "Rider Rating" scores (star ratings) and which motorcycle road description pages were visited the most. But, the analysis dug deeper and looked at some less obvious yet valuable indicators of a motorcycle road's popularity such as how often a given motorcycle road was added to riders' "To Ride" lists, how often a given motorcycle road was added to riders' "Rode it" lists and enthusiasm indicators such how often photos and/or videos were uploaded for a given road and which roads are attracting the most buzz among motorcycle roads indicated by those roads that are receiving the most number of new/recent comments. For the sake of being consistent and as objective as possible we use a popularity algorithm that "crunches those number" and allows us to develop a ranking of the popularity of each of the motorcycle roads used as a basis for this guide.
---

Conclusion
As always, I hope to provide you with insightful & valuable motorcycle riding community information to help you get the most out of all of your motorcycling experiences.
I'm always looking for ways to make MotorcycleRoads.com better and more helpful so if you have any suggestions to improve the website, just contact me through the Feedback button you'll find near the top of every page. And as always, if you have a favorite motorcycle road of yours that is not yet registered on MotorcycleRoads.com, please get that favorite of yours "on the map" by registering it at MotorcycleRoads.com. Registering a motorcycle road (or event, or club, or place) is quick and easy and you'll be helping out our motorcycle riding community!!!
Lastly, if you are interested in having a monthly summary of motorcycle riding community updates/new information sent straight to your email box, sign up for our monthly (or less) eNewsletter. Or, if you are into social media, follow me at Facebook and/or Twitter.
---
---