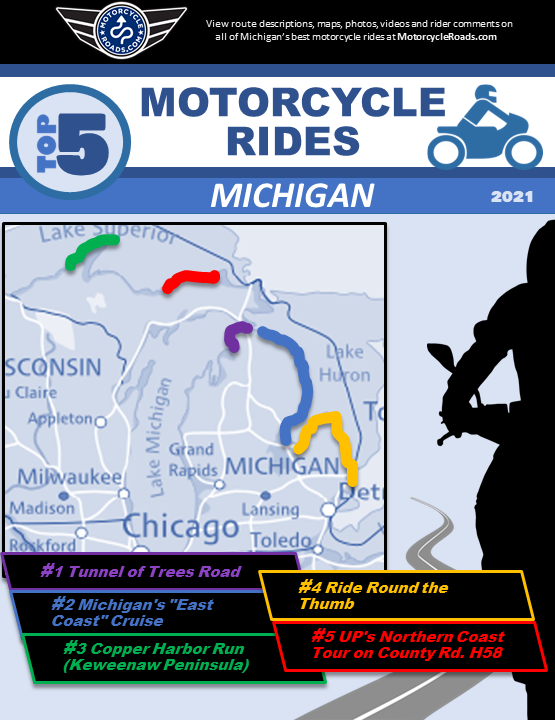 We looked at a full collection of 2021 motorcycle riding season data when millions of riders visited MotorcycleRoads.com to find the best motorcycles rides and routes in the USA, Canada, and abroad. For over 20 years now, MotorcycleRoads.com has been documenting the best/most-popular motorcycle roads, routes, and rides and for about a decade, we have published annual reports after diving into the website's statistics (which routes are riders researching the most, which routes are getting the most photo/video/comment uploads, etc., etc.) to determine which of the motorcycle routes have risen to the top in motorcycle rider popularity. We look at a complex set of factors (see Note 2 below) to determine which of the motorcycle rides in each of the states and US regions are the most popular and rated to be the best by motorcycle riders just like you. Our very popular annual "Top Motorcycle Rides per Region" guides cover the best rides for each of the four official riding regions of the USA: the Northeast, the South, the Midwest, and the West. This year we took things a step further and decided to gone one level deeper and develop guides outlining the Top 5 Best Motorcycle Rides in for the US states and so you are seeing one of those such guides on this page.
One of the gems of Midwest motorcycle riding is the state of Michigan with it's great shoreline driving along Lakes Michigan, Lake Huron, and Lake Superior, as well as the rustic woods and hills of its norther sections of the lower peninsula as well as the upper peninsula. This year's Top 5 really showcases many of the great motorcycle rides along these coast as the Top 5 motorcycle rides in Michigan really cover much of the state's different coastal ride offerings with a perennial favorite taking the top spot again. So, starting from #5 and working our way down to the #1 best motorcycle ride in Michigan.
After reviewing an entire year of activity of Michigan motorcycle riders, here are the results:
#5 UP's Northern Coast Tour On County Rd. H58
H58 is a county-designated route that runs from Munising to Deer Park across the northern portion of Alger and Luce Counties. Although a majority of the route passes through the woods, there are numerous picturesque vistas and one very brief section runs straight beside the lake.
The Michigan State Highway M-25 is a popular Michigan motorcycle road trip. It is a picturesque two-lane trunk line that runs from Port Huron to Bay City, Michigan. It is an easy route with few risks and few hills and twists, but the landscape is stunning, especially when the road skirts the shores of Lake Huron.
#3 Copper Harbor Run (Keweenaw Peninsula)
A ride through the Keweenaw Peninsula is all about discovering the region's incredible natural and recreational features. The best part is that you get to bike on all of Copper Country's fantastic routes, from Söké to Copper Harbor and everything in between.
#2 Michigan's "East Coast" Cruise
Michigan has a lot to offer, from relaxing scenery to crystal-clear bodies of water. Begin your journey at Bay City, Michigan, roughly 45 miles north of Flint. This is a fantastic route that follows the shore of Lake Huron as it ascends the shoreline into the Upper Peninsula of Michigan.
The Tunnel of Trees is part of the M-119 state route, which runs from Cross Village to Harbor Springs on Michigan's Lower Peninsula. The Tunnel of Trees in Northern Michigan stretches across the Lake Michigan coastal cliff, with Sturgeon Bay to the north and Little Traverse Bay to the south. This has been the best motorcycle ride in Michigan for a long time now and draws in riders from all over the country!
---
Note 1: All facts and figures below were gathered in Dec of 2021 and will change over time as new motorcycle roads are added to the collection. For an update listing, you can go to MotorcycleRoads.com at any time, search on a state of your choosing, and you'll be presented with a list of the best motorcycle roads in that state. You can also search on the newest motorcycle routes to be registered in that state as well as sift through the routes based on other filters. Some examples of filtered searches you can do is to filter results based on - only the routes in your state that have 5-star scenery ratings, or only routes with a 5-star driving excitement rating and at least a 3-star rating for scenery, etc. etc.
Note 2: How were these popularity ratings calculated?
A motorcycle road's popularity can be based on a wide variety of factors. Our analysis considered some obvious indicators of motorcycle road popularity such each roads' "Rider Rating" scores (star ratings) and which motorcycle road description pages were visited the most. But, the analysis dug deeper and looked at some less obvious yet valuable indicators of a motorcycle road's popularity such as how often a given motorcycle road was added to riders' "To Ride" lists, how often a given motorcycle road was added to riders' "Rode it" lists and enthusiasm indicators such how often photos and/or videos were uploaded for a given road and which roads are attracting the most buzz among motorcycle roads indicated by those roads that are receiving the most number of new/recent comments. For the sake of being consistent and as objective as possible we use a popularity algorithm that "crunches those number" and allows us to develop a ranking of the popularity of each of the motorcycle roads used as a basis for this guide.
---

Conclusion
As always, I hope to provide you with insightful & valuable motorcycle riding community information to help you get the most out of all of your motorcycling experiences.
I'm always looking for ways to make MotorcycleRoads.com better and more helpful so if you have any suggestions to improve the website, just contact me through the Feedback button you'll find near the top of every page. And as always, if you have a favorite motorcycle road of yours that is not yet registered on MotorcycleRoads.com, please get that favorite of yours "on the map" by registering it at MotorcycleRoads.com. Registering a motorcycle road (or event, or club, or place) is quick and easy and you'll be helping out our motorcycle riding community!!!
Lastly, if you are interested in having a monthly summary of motorcycle riding community updates/new information sent straight to your email box, sign up for our monthly (or less) eNewsletter. Or, if you are into social media, follow me at Facebook and/or Twitter.
---
---