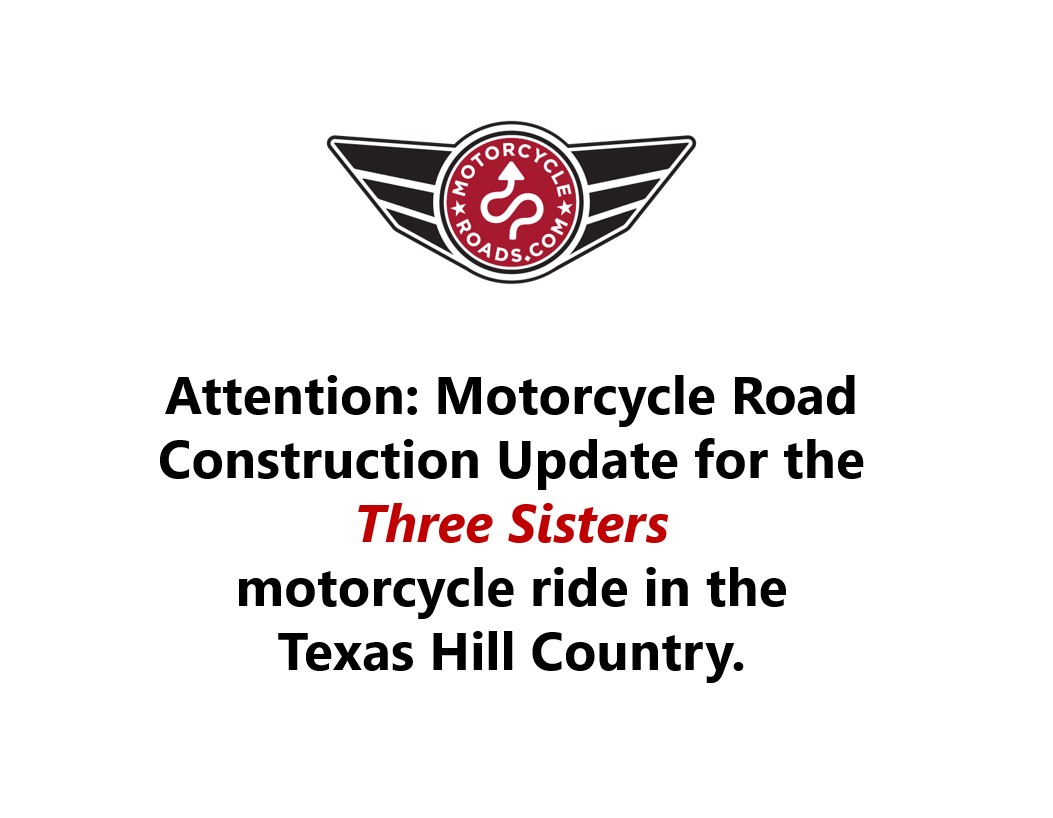 The Best Motorcycle Road in Texas
For those of you that follow the rankings of the best motorcycle rides & roads in Texas, you know that The Three Sisters is by far the most popular motorcycle road in all of Texas. In fact this ultra popular motorcycle road in Texas has actually consistently been named as one of the best motorcycle roads in the USA. Many motorcycle riders not only in Texas but around the country and even around the world, travel each year down to an area west of San Antonio known as Texas Hill Country to ride the Three Sisters. In fact, this Texas motorcycle ride often is rated on the ever-updating listing of the Best Motorcycle Roads in the USA located on MotorcycleRoads.com (it has even bumped the mega-popular Dragon motorcycle ride in Tennessee (AKA Deals Gap, Tail of the Dragon) from the #1 spot periodically!
Unfortunately road construction along a portion of the route will completely block a section of the route and so this article is designed to help riders plan appropriately. According the blog of the Black Bucket Lodge in Median Texas, a bridge crossing Mill Creak will be completely shut down while it is rebuilt and so a portion of Ranch Road 337 will become impassable to traffic. This construction could start as early as mid Sep, 2020 and once it starts, it is estimated to take 6-months to complete. As you can see in the graphic below, this will make block one of the three Ranch Roads making up the Three Sisters, yet the other two ranch roads are not affected by this construction.
If you plan to travel on the Three Sisters in the near future, please plan appropriately. Also, if you know of any riders planning to ride the Three Sisters in this time frame, please save them an unpleasant surprise and provide them with a link to this Motorcycle Roads Construction Update.
Lastly, if you have any other updates on this construction and/or know of any other major construction affecting other popular US motorcycle rides in the USA, please contact me through the site's Feedback function (red button at the top of the page when viewing the site on a computer, and as one of the options under the options button on the top right when viewing the site on a mobile device).