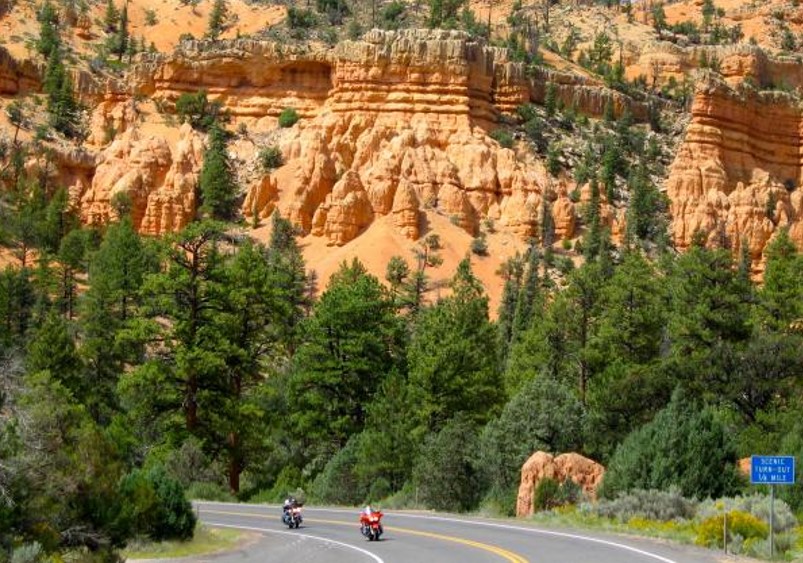 Have you ever asked the question: Where are the best motorcycle rides near me in Utah (UT)?
Whether you are simply looking for new motorcycle rides & roads in Utah to try or if you are specifically trying to find the very best motorcycle rides in Utah, learning of all your motorcycle ride options may be more difficult than you realize. Even motorcycle riders with years of experience riding in the Beehive State can stumble on to a great motorcycle ride that they had driven past a thousand times. Or, these riders happen to talk to another motorcycle rider and find out about a local/great motorcycle road in an area that they've never thought to try. So, MotorcycleRoads.com (McR) has put together this quick guide to help you definitively answer the question - "What are my best options for Motorcycle Rides Near Me in Utah?"
Note: this guide was updated in January of 2020 and so the Utah motorcycle road rankings you will see below were accurate that time. Keep in mind, however, motorcycle ride popularity changes over time and so will the ranking. For updated Utah motorcycle ride rankings, visit the best motorcycle rides in Utah page.
Closest US Motorcycle Riding Hotspot to Utah
First, if you are a Utah motorcycle rider that is willing to travel a bit to wherever the best motorcycle rides are, then I need to tell you about some motorcycle riding HOTSPOTS in the USA. After 20+ years of collecting information on 1,000s of motorcycle roads & rides and countless rider reviews and ratings of those roads along with endless photos and videos, I've been able to determine the location of some places that are simply US motorcycle riding Hotspots. The motorcycle riding hotspot nearest to Utah is located to the east in the Colorado Rocky Mountains. However, there are other hotspots located in different regions of the country that you may want to consider. Below, I first describe the nearest motorcycle riding hotspot for Utah riders – The Colorado Rocky Mountains; then I provide a link to the full reports so you can research the other US motorcycle riding hotspots if you are interested. Each of these hotspots act like "magnets for motorcycling" and are depicted in the map image below.
Showcase: The Colorado Rockies Motorcycle Riding Hotspot
The nearest motorcycle riding hotspot to Utah is the hotspot that is probably the least surprising of the list - The Colorado Rockies. As a bordering state of Utah, depending on where you are in in the state of Utah, you may only have a short ride to get to this hotspot (particularly if you are somewhere in Eastern Utah). For your reference however, Salt Lake City, UT is about 350 miles to Glenwood Springs, CO which could be considered an anchor point for these Colorado Rocky Mountain motorcycle rides. Once in Colorado, you would want to focus on the particular regions of the Colorado Rockies that stand out for motorcycle rides as they are the Southwest corner (the Durango, CO area) and the Northcentral region (just west of Fort Collins, CO). The particular motorcycle rides you want to consider are:
Since the remaining three motorcycle riding hotspots are significantly further away than the Colorado Rocky Mountain hotspot, I'll provide you a link to the Motorcycle Rides Near Me in the USA guide where, if you are interested in planning an epic motorcycle trip, you can find the full report on those great US hotspots of motorcycle riding.

Iconic US Motorcycle Rides
If, however, you are looking for specific motorcycle rides that are widely considered to be the very best motorcycle roads in the USA, then I need to tell you of the motorcycle rides that have reached iconic status. Although none of these motorcycle rides are located in Utah, they are rides that every real motorcycle riding enthusiast should add to his/her motorcycle ride bucket list. The short list of iconic US motorcycle rides is as follows:
The Dragon – This is a route that goes by many names – The Dragon, the Tail of the Dragon, Deal's Gap, and/or the Dragon's Tail. Call it what you want, but this is probably the most famous motorcycle road I the entire world … yes, world.

The Blue Ridge Parkway – like The Tail of the Dragon discussed above, the next iconic motorcycle ride is also world famous yet this is anything but a short ride as it covers a whopping 469-miles!

Three Sisters – the next iconic motorcycle ride finds us down south "deep in the heart of Texas" with a motorcycle ride that also goes by a few different names (Ranch Roads 335, 336,337a, or "The Twisted Sisters," or simply "The Three Sisters") and is positioned in an area known as Texas Hill country.

Hwy 1 - Pacific Coast Highway (PCH) – Beyond a doubt, the most iconic motorcycle ride in the west is the Pacific Coast Highway and is also one of the most famous scenic drive in all of the world.

If you're looking for a iconic motorcycle ride in the Midwest, The Tunnel of Trees Road is like the PCH of the Midwest and like PCH (described above), this route is also a "shore hugger." It offers riders great lake shore scenery off to the west with a canopy of green foliage from above.

The last iconic American motorcycle ride on our list is the most extreme in many aspects as it is located in a sparsely populated area in northern Wyoming and crossing over into an equally sparsely populated area of Southern Montana and is referred to as Beartooth Pass . The route is extreme for the fact that for the sheer mountain cliffs and switchbacks as well as the fact that it can throw snow & ice into the mix as late as July.
If you don't happen to live near any of the US motorcycle riding hotspots or iconic motorcycle rides described and not looking to travel to those areas but instead want to find motorcycle rides near you in Utah, I will describe the current motorcycle ride environment in the Beehive State as well as summarize Utah's most popular motorcycle rides. Currently Utah has 29 motorcycle roads registered on McR with 4 of those Utah motorcycle rides ranking in the Top 100 Motorcycle Rides in the USA. DO research on Utah and its areas as well as any attractions. Also find some info on it's weather and what not. The current best motorcycle rides in Utah (per the McR ranking system) are listed as follows:

1. The Grand Staircase-Escalante National Monument Tour in the southeast portion of the state. The route 130-miles long and travels through some unbelievably beautiful areas/parks such as Red Canyon, Bryce Canyon, and the name sake of this motorcycle ride: The Grand Staircase-Escalante National Monument. The motorcycle route is round east of I-15 about as far south as Cedar City is.

2. Mexican Hat to Bryce Canyon is a Utah motorcycle ride that has been registered since way back in 2007 and accumulated a great collection of photos and rider comments that will explain to you what makes this the second-best Utah motorcycle ride. Like our first Utah motorcycle ride in the list, this route is also east of I-15 down around near Cedar City. However, unlike our first Utah motorcycle route, this route is quite long at 293-miles and nearly reaches the corner of the state and the Arizona & Colorado borders.

3. Highway 9 - Zion Canyon is our third best Utah motorcycle ride and this route is further south than both #1 & #2 above and it is accessible directly from I-15 (once again to the east) just north of St. George. At 45-miles, this motorcycle ride is considerably shorter than the first two mentioned and spends the majority of its miles meandering through a canyon area.

4. Heber to Hannah & the Wolf Creek Pass Loop is our #4 Utah motorcycle ride is positioned further north in the state (positioned just east of Provo) than the three previously described above Utah motorcycle rides but give the rider some more impressive water scenery options than the rides above; such as Strawberry Reservoir and Jordanelle Reservoir.

5. Mt. Nebo Loop Road Run is our final recommendation and the #5 Utah motorcycle ride and the only route of the list that is designated by the US Federal Government as a "US Scenic Byway." The route has been registered on McR since WAY back in the year 2000 and is on the shorter end of the spectrum in terms of length at 37-miles. And, as the road's title alludes to, the feature of this ride is the 11,982 feet Mt. Nebo.
In addition to the great Utah motorcycle rides described above, overall, if you like exploring outdoors, Utah is the state for you. It has some of the best scenic sites in the world with large elevation diversity around the state, stretches of beauty all year round and some cultural highlights as well. Below is a list of some of the top Utah destinations that you could work into a great Utah motorcycle riding weekend or trip:
Interested in more motorcycle ride articles like this?
---

Conclusion
As always, I hope to provide you with insightful & valuable motorcycle riding community information to help you get the most out of all of your motorcycling experiences.
I'm always looking for ways to make MotorcycleRoads.com better and more helpful so if you have any suggestions to improve the website, just contact me through the Feedback button you'll find near the top of every page. And as always, if you have a favorite motorcycle road of yours that is not yet registered on MotorcycleRoads.com, please get that favorite of yours "on the map" by registering it at MotorcycleRoads.com. Registering a motorcycle road (or event, or club, or place) is quick and easy and you'll be helping out our motorcycle riding community!!!
Lastly, if you are interested in having a monthly summary of motorcycle riding community updates/new information sent straight to your email box, sign up for our monthly (or less) eNewsletter. Or, if you are into social media, follow me at Facebook and/or Twitter.
---
---