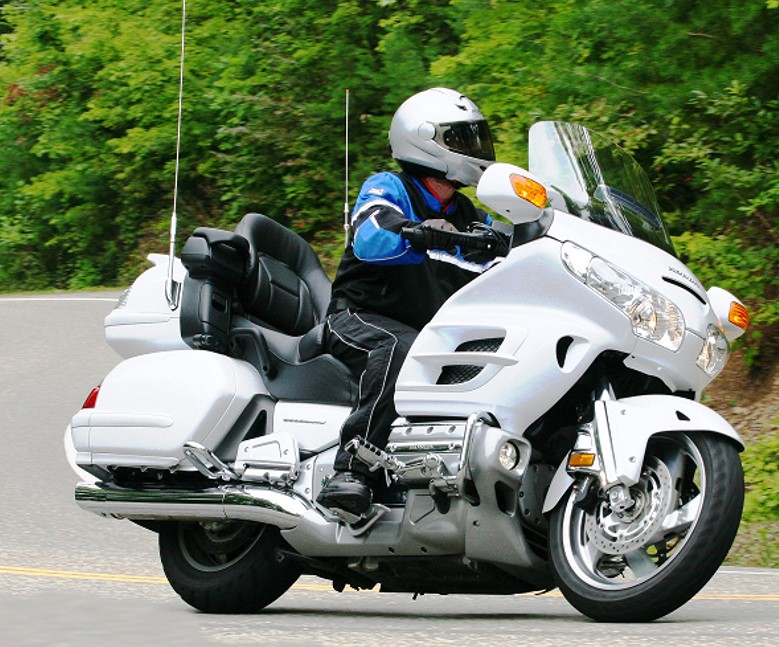 Mark Bennett's Motorcycle Riding History:
"I grew up in Missouri and started riding motorcycles when I was 11 years old. I borrowed my older brother's 70cc Yamaha, without permission, and took it for a run down a dirt road. I was hooked! Eventually I bought that bike from my brother and rode it until I got my driver's license and switched to cars.
After high school I enlisted in the US Air Force and spent the next 22 years serving my Country, getting married and raising three kids. All while dreaming about getting back to riding. In 1996 I bought a 1981 Yamaha 400cc Maxim. My wife and I rode that bike all over Delaware. In 2002 my wife surprised me with a Yamaha VStar 1100cc with the Silverado package. Over the next 6 years we put 42K miles on "Brandy". Looking for an upgrade so we could tour North America we traded in the VStar for a new Honda Goldwing 1800cc in 2008. "Aurora" is my current bike and the odometer went over 115K in 2020.
So far I've ridden in 15 US states and 5 Canadian provinces. Along the way I spent 10 years as a Motorcycle Safety Foundation RiderCoach. I taught in Connecticut, Maine and New Hampshire. I was a Gold Wing Association Instructor for five years and attained my Master Tour Rider rating. I'm also an Iron Butt Association member, with a couple of 1,000 mile Saddle Sore rides to my credit. In 2016 I finished a Tour of Honor season, raising awareness for Fisher House along the way. My TOH is one of my most memorable accomplishments, honoring our military and first responders was a humbling experience.
I currently live in Maine, but consider the southern Appalachian Mountains my second home. A couple times each year I head there with my brother and a few friends for several days of riding."
Mark Bennett's Favorite Motorcycle Rides in North Carolina:
Cherohala Skyway - Many who come to North Carolina focus on the Tail of the Dragon and miss this gem. I discovered it in 2008 and have returned countless times since. I enjoy leading a new friends across the Skyway. We usually stop at the high point of Huckleberry Knob and without fail they comment about how this route is AMAZING. Sweeping curves, tight corners, elevation changes, wide-shoulders for better sightlines, long range vistas, and no commercial trucks. Cherohala Skyway is truly the Mile High Legend.

Route 181 - I found this while touring WNC in 2018. My first run was southbound and I made sure to ride it northbound a few days later. Northbound it's a full-on ascent to the crest of the Blue Ridge Mountains. Wide sweepers that frequently include slow passing lanes. That means you can stay on the throttle the whole way. The curves are banked which provides ample ground clearance for deep lean angles.

Blue Ridge Parkway - The BRP is often referred to as America's Favorite Drive. It gets that moniker for a very good reason. The beauty of the Parkway in NC is that it runs along very high elevations. There are numerous switchback roads going up to meet it and often they continue down the other side of the ridge. You can spend 20-50 miles in the serenity of the BRP then take one of the crossing roads for a fast-paced run. Many of the crossroads are so well known they have names; Devil's Drop, Devil's Whip, Diamondback, Heintooga Ridge, and Route 181 (listed above) all intersect the Blue Ridge Parkway.
Mark Bennett's Advice To Those Riders Looking to Tour North Carolina:
"North Carolina offers everything from beach riding in the Outer Banks to the highest mountain east of the Mississippi, Mount Mitchell. With so many options it appeals to all types of riders. If you plan to come for a week it's best to stay in one location and do loop rides of 150-225 miles each day. By staying in one place your bike is not fully loaded each day, which will be a blessing when negotiating the technical curves in the mountains. The well-known routes are very busy on weekends. It's better to ride them Tuesday-Thursday.
Heed the warnings you hear about twisty mountain roads. Riders who push beyond their skills can easily end up in a ditch, or worst."

Note: Recently, MotorcycleRoads.com (McR) announced the start of a new program for assigning prolific motorcycle riders as "Road Rangers" for various regions of the USA and Canada - the MotorcycleRoads.com Road Ranger Program. This program is a great way for prolific motorcycle riders in various regions to share their knowledge and expertise of the best motorcycle roads and rides within that region.