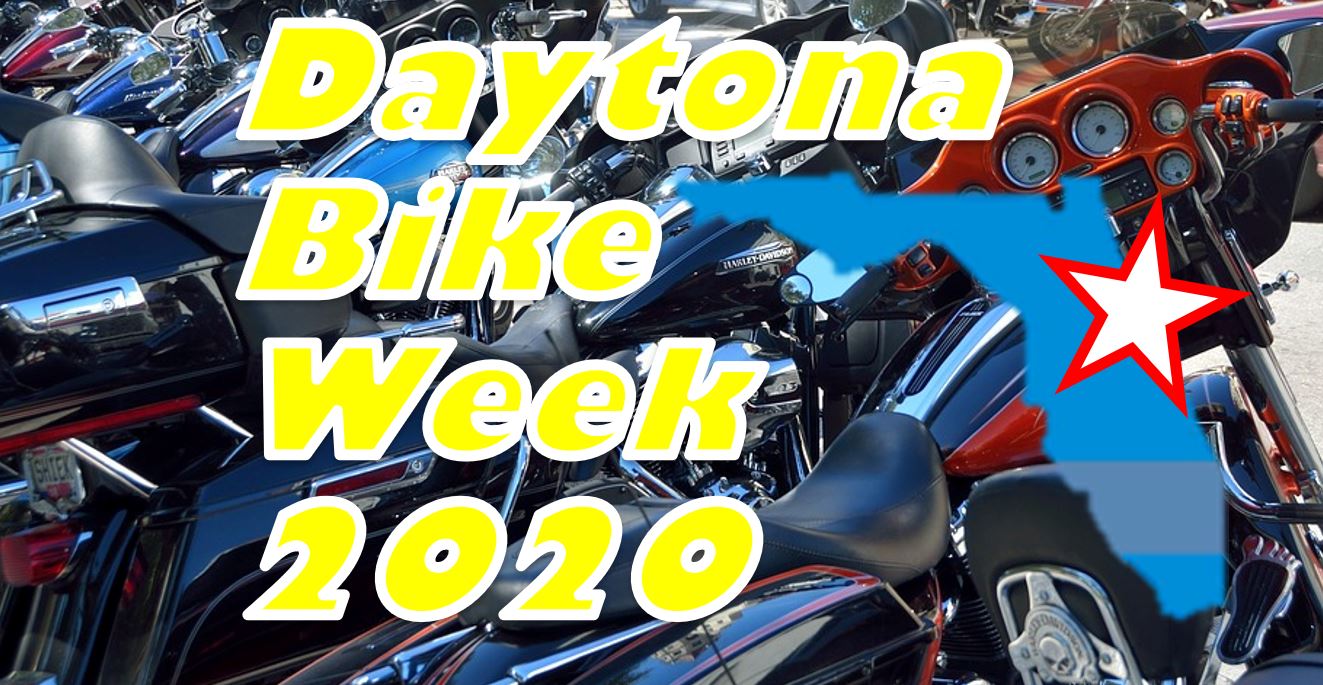 Daytona Bike Week 2020
This year's running of the world famous Daytona Bike Week motorcycle rally located in Daytona Beach, Florida, marks the 79th annual event (note: the event is sometimes referred to as Daytona Beach Bike Week or simply Bike Week). Over the years, Daytona Bike Week has become an iconic US motorcycle rally and drawn in millions of motorcycle riders from all of the US and abroad. The rally's length has varied over time but is currently a 10-day rally which is hosted the around the first week in March each year.
The setting for the rally is ideal as it is hosted in March on the eastern coast of Florida where temperatures are generally mild and therefore offers a welcome break away from the cold winter temperatures for the majority of the attendees who "migrate from the North." The events are spread out over the Daytona Beach area and therefore offer the great combination of sunny beach scenery along with rally events and local area activities and attractions. It's no wonder this event has been around for over three quarters of a century and only grown over time to the monster event it is now!
There are a group of 8 dominant (in terms of size, notoriety, and longevity) US motorcycle rallies sometimes referred to as The Great 8 US Motorcycle Rallies. These 8 major US motorcycle rallies are (in alphabetical order):
Bikes, Blues, &, BBQ (Arkansas)
Daytona Bike Week (Florida)
Laconia Bike Week (New Hampshire)
Laughlin River Run (Nevada)
Myrtle Beach Bike Week (South Carolina)
Republic of Texas Biker Rally (AKA the "ROT Rally", Texas)
Rolling Thunder (Washington D.C.)
The Sturgis Motorcycle Rally (South Dakota).
They generally run from March through September each year and Daytona Bike Week is the first out of the gate starting in early March!
A Little Daytona Bike Week History
Daytona Bike Week started out way back in 1937 as a get together for both the competitors and spectators of the very first Daytona 200 motorcycle race. Back then the motorcycle race took place on a combination of beach sand and pavement with the race eventually moving to its current home at the Daytona International Speedway. The Daytona Beach Bike Week has taken place every year since 1937 with the exception of 1942-1947 when the event was postponed due to World War II. If rally size matters to you then the Daytona Bike week is one to keep on your short list of US motorcycle rallies to attend due to the fact that over the years, Daytona Bike Week and the Sturgis Motorcycle Rally (held in Sturgis, SD) have vied for the largest motorcycle rallies in the US (and presumably the world for that matter)! However, if we look at both event's highest attendance records, we see that Sturgis has the record with nearly 740,000 attendees on hand for that rally's 75th Anniversary ... Daytona Bike Week comes in second at approximately 500,000 attendees, coincidentally also for its 75th anniversary event. The chart below shows you the breakdown of each of the Great 8 Motorcycle Rallies.
Note 1 (clarification of how attendee figures were calculated): Attendance figures for US motorcycle rallies are particularly tricky to determine because there is no established convention to the figures. Totals sometimes include riders, others include riders & passengers, & yet others count attendees who may have walked in off the street. So I had to look at a variety of information sources, sometimes I had to take averages of different figures, and sometimes I had to ignore some sources because they seemed so shaky. Lastly, I took the "high water mark" attendance figures meaning the figures above are the highest attendance figures for each these large US motorcycle rallies as reported by what appeared to be reliable sources.

Daytona Bike Week Rally 2020 Activities & Events
Daytona Bike Week 2020 will offer motorcycle riders a variety of activities and events!
A mainstay event hosted each year at the rally is the the Annual Daytona Swap Meet and Bike show which is billed as the "World's Largest" and runs for the duration of the rally.

Start your Sunday off properly with a Blessing of the Bikes and a Free Pancake Breakfast on Sunday March 8th - open to everyone!

Clearly one of the showcase events of each Daytona Bike Week is the annual Daytona 200 now also in its 79th running. This is a 200-mile Superbike Motorcycle Race hosted at Daytona International Speedway and attracting riders from all over the world who reach speeds of nearly 200 mph. This year's Daytona 200 is being run on March 14th.

The annual Daytona Supercross Motorcycle Race (celebrating its 50th running this year!) is a high-flying motocross race with pyrotechnics, a light show, and plenty of thundering motorcycles to entertain the fans. This event also takes place at the Daytona International Speedway and includes motorcycle demo rides, opportunities to meet the drivers, access to the pits, and merchandise & parts booths to shop at.

Also the rally has your traditional and popular activities that rally participants can compete in such as the Leather and Lace MC Annual Motorcycle Rodeo which includes barrel races, slow races, & shovel rides as well as a bike show for rally participants to include prizes.

On Thursday March 12, an event called "Chopper Time: An old school chopper show" will feature live bands, a 20 class chopper bike show, BBQ, cash & prizes, and is hosted at Ormond Beach which is just about 5-miles north of Daytona Beach, FL. Throughout Daytona Bike Week 2020, hundreds of vendors will be spread out over a variety of venues as well as motorcycle manufacturer displaying their newest models and offering demo rides!
Not only are great events & activities offered & organized by the rally but the setting is about ideal as it can get as it is located in the tourism endowed town of Daytona Beach, FL which has a world class collection of hotels, restaurants, gift shops, bars, and off course - those beautiful Florida beaches.

Daytona Bike Week Ratings
(Based on previous Daytona Bike Week attendees' opinions)
Rallies offer a variety of amenities for attendees. They generally can be grouped up into three categories: rally activities (rally sponsored/organized things to do & see), rally setting (local town/city/environment where the rally is hosted), nearby motorcycle rides (quality/quantity of local area motorcycle rides).
RATINGS: below we've asked attendees to rate these three areas and the current ratings are as follows. The ratings range from 1 - 5 where a 1 is considered "poor," 3 is considered "average" and 5 is considered "fantastic." If you have been to Daytona Bike Week, ADD YOUR RATINGS and let your vote be heard by filling out the survey form at the bottom of this guide:
Motorcycle Ride Options Near Daytona Bike Week
Florida motorcycle rides are typically characterized by relatively flat stretches of generally straight roads due to the topography of the Sunshine State. However there are some notable exceptions that offer hilly stretches and collections of nice curves. Visit MotorcycleRoads.com to find these and the entire collection of registered Florida motorcycle rides. Below we will highlight a few key Florida motorcycle rides that are located both near the Daytona Beach Bike Week Rally and are known to be some of the best rides available to rally participants.

#2. SR-13 Just South of Jacksonville
However, Daytona Bike Week, and its position along the central/eastern coast of Florida, also places it not too far from the second most popular motorcycle ride in all of Florida (at the time of this publication). Like the stretch of A1A described above, this Florida motorcycle road lies south of Jacksonville and is called Scenic SR-13. If you are coming in from the north, make sure you work this motorcycle drive into your trip either coming into Daytona Beach or heading back out. SR-13 is a 38-mile motorcycle road that unlike A1A that follows the Atlantic coast, this ride instead follows the path of the St. John's river (slightly to the west of A1A). This motorcycle ride offers a much different feel than the A1A stretch mentioned above as it travels under a canopy of large shade trees and offers some really nice curves and rambles through a number of quaint little Florida communities.


#3. The Daytona Loop
The last motorcycle ride near Daytona Beach Bike Week we'll feature is currently the 5th most popular motorcycle ride in all of Florida and is a convenient 22-mile loop just north of Daytona Beach, FL. It's called The Daytona Loop and is considered a must ride for all rally attendees. The author who registered this Florida motorcycle road described it best - "Going North, riders are greeted by a cathedral of trees up to the Highbridge Road where they hang a left (to go west) and go over the bridge and the Intercostals Waterway (the Halifax River). There are several places to stop along the way and just enjoy the Florida countryside ... Awesome, wetlands mixed with some breathtaking tree covered roads. Nice river, and small swamp/marshlands. "

Florida Motorcycle Riding Weather
Daytona Beach Bike Week is hosted each year in March but we should also mention that Daytona also hosts another motorcycle rally in the fall (October to be exact) called Biketoberfest. Each of these events are positioned on the calendar to enjoy beautiful mild Florida spring & fall weather. But, just to make sure you are packing the right clothes, in preparation for your trip to either of these rallies, check out the average Daytona Beach, Florida high & low temps in the chart below.
Aside from concerns regarding high & low temperatures, if you are a motorcycle rider headed to Florida, you'd better make sure you have some good rain gear as Florida is the 5th rainiest state in the USA. So, expect to have to deal with this element by making sure you have good rain gear and by making sure your travel plans can accommodate periods of rain and times when it is simply unsafe to be driving. To help you with this planning, we've included a chart below that shows you the amount of rain to plan for in a given month ... you'll see June through late August are the rainiest months of the year in Daytona Beach, FL.
---
If you have attended Daytona Beach Bike week, please help all of us riders learn about Daytona Beach Bike Week and ADD YOUR OPINION TO THIS GUIDE by filling out the below short survey:
Facebook users - If you had ONE comment to pass along to other riders thinking of attending the Daytona Beach Bike Week, enter that below:

Conclusion
As always, I hope to provide you with insightful & valuable motorcycle riding community information to help you get the most out of all of your motorcycling experiences.
I'm always looking for ways to make MotorcycleRoads.com better and more helpful so if you have any suggestions to improve the website, just contact me through the Feedback button you'll find near the top of every page. And as always, if you have a favorite motorcycle road of yours that is not yet registered on MotorcycleRoads.com, please get that favorite of yours "on the map" by registering it at MotorcycleRoads.com. Registering a motorcycle road (or event, or club, or place) is quick and easy and you'll be helping out our motorcycle riding community!!!
Lastly, if you are interested in having a monthly summary of motorcycle riding community updates/new information sent straight to your email box, sign up for our monthly (or less) eNewsletter. Or, if you are into social media, follow me at Facebook and/or Twitter.
---
---