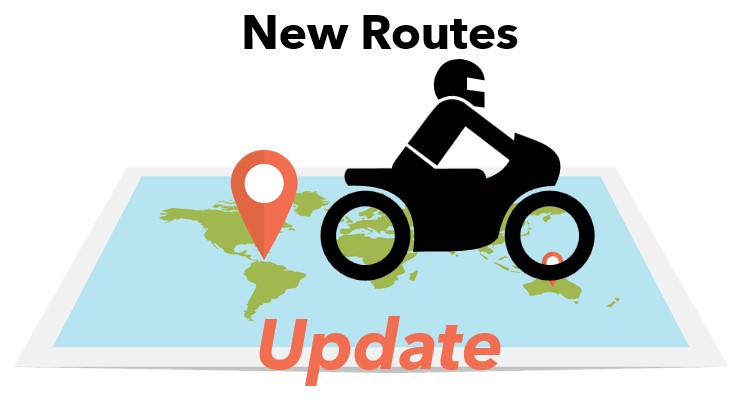 US States With the Most New Motorcycle Roads Added So Far in 2021
MotorcycleRoads.com is off to a great 2021 riding season so far as over 150 new motorcycle roads have been across the USA! We looked at the statistics and found out that there are some states that have had a particularly great year so far. For example, the Show Me State, Missouri, has had the biggest year of all states so far adding 14 new motorcycle roads bringing its current total to 57 motorcycle rides. Many of the new motorcycle roads added for Missouri are in the St. Louis area and head southwest into the hills and wine country of this great section of the state.
North Carolina has always had a robust collection of motorcycle rides on McR as it is one of only about 5 states with over 100 roads in its collection. 2021 has only helped North Carolina by adding a second best 12 new motorcycle rides during this calendar year so far.
The third place spot goes to two states that both have put 11 new motorcycle rides within their borders this year so far: California and Ohio. California has long been the number one state on MotorcycleRoads.com for the number of registered motorcycle roads and currently sits at 129 total while Ohio has always been the upstart Midwest state that has some of the most popular motorcycle roads in the entire USA and has the greatest concentration of great rides in the motorcycle riding hotspot area known as the Buckeye Hills. Both California and Ohio have added 11 new rides this year so far and so if you're lucky enough to live in one of those states or a nearby state, check out the new California motorcycle rides and new Ohio motorcycle rides and make your 2021 riding plans.
Round out the rest of the list in fourth place is Indiana with 7 new motorcycle rides, Colorado has 6 new motorcycle rides, both Washington and West Virginia have 5 new motorcycle rides, and New York, Oregon, and Texas round out the rest of the list with 4 new motorcycle roads a piece.
For a listing of the best motorcycle rides in America, keep checking back with MotorcycleRoads.com as new rides are coming in all the time!!