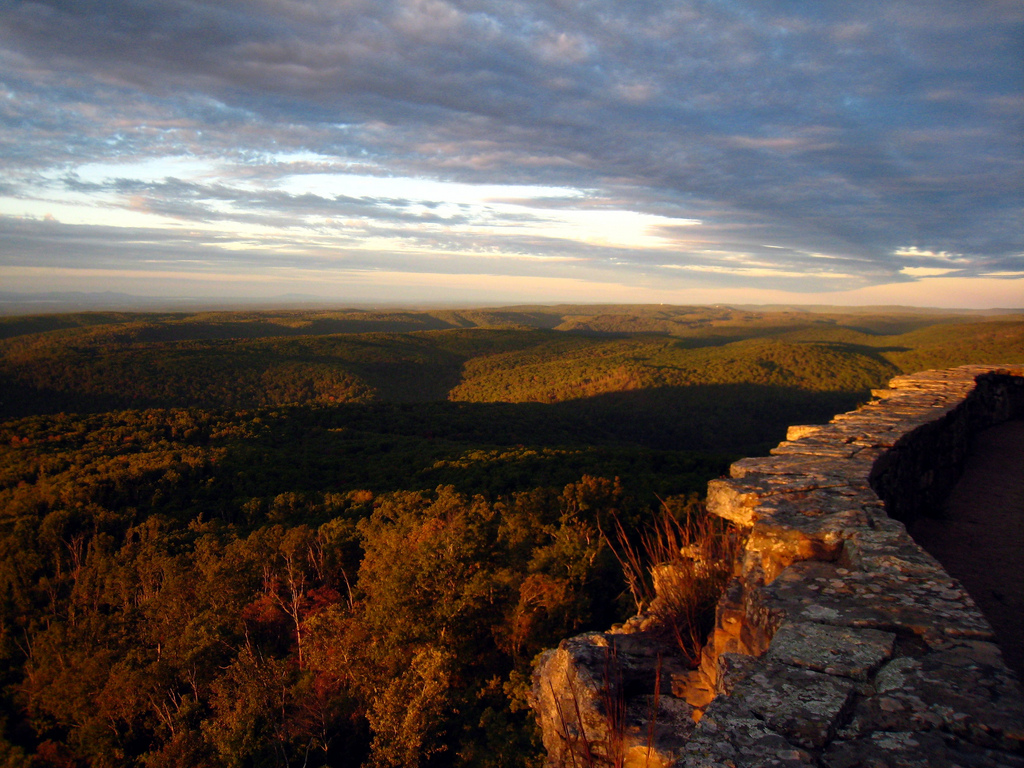 Have you ever asked the question: Where are the best motorcycle rides near me in Arkansas (AR)?

Whether you are simply looking for new motorcycle rides & roads in Arkansas to try or if you are specifically trying to find the very best motorcycle rides in Arkansas, learning of all your motorcycle ride options may be more difficult than you realize. Even motorcycle riders with years of experience riding in the Natural State can stumble on to a great motorcycle ride that they had driven past a thousand times. Or, these riders happen to talk to another motorcycle rider and find out about a local/great motorcycle road in an area that they've never thought to try. So, MotorcycleRoads.com (McR) has put together this quick guide to help you definitively answer the question - "What are my best options for Motorcycle Rides Near Me in Arkansas?"
*Rankings for Arkansas motorcycle rides were accurate at the time this guide was published/updated in Feb of 2020 (for more information, see Note 1 at the bottom of this article). Additionally, McR uses a proprietary algorithm to calculate motorcycle ride popularity (for more information, see Note 2 also at at the bottom of this article).
No matter how hard you try sometimes any student needs help from Research Paper Writing Service. If you
check over here
you can reach the needed work from our professional writers.
Closest US Motorcycle Riding Hotspot to Arkansas
First, if you are an Arkansas motorcycle rider that is willing to travel a bit to wherever the best motorcycle rides are, then I need to tell you about some motorcycle riding HOTSPOTS across the United States. After 20+ years of collecting data on 1,000s of great US motorcycle roads & rides, motorcycle rider reviews and ratings of those motorcycle roads, along with thousands of photos and videos, it has become clear that some regions of the USA are simply motorcycle riding Hotspots. And, lucky for Arkansas motorcycle riders, they are host to one of the nation's very own motorcycle riding hotspot ... I'll provide you some specific information about that hotspot below but you need to realize that there are other hotspots located in different regions of the US that you may want to consider traveling to at some point in your "motorcycle riding lifetime." Each of these hotspots act like "magnets for motorcycling" and are depicted in the map image below (learn more about all of these hotspots by visiting our guide to motorcycle riding hotspots.)
As mentioned above, Arkansas motorcycle riders are blessed by the fact that they reside in a state that is host to one of the United States' hotspots of motorcycle riding depicted in the illustration above. And, yet many Arkansas motorcycle riders may not realize that there is a motorcycle riding hotspot located in Arkansas; specifically the region in Northwest Arkansas. You see, unfortunately for riders looking for great motorcycle rides, Northwest Arkansas can be a bit of a well kept secret as it is one of those places that isn't located near major tourist areas or particularly large cities that would increase the chances of more riders discovering it. It is however a place of particular natural beauty and near ideal topography to combine for a truly fertile ground for some top-shelf motorcycle riding real-estate. In this bountiful riding area, motorcycle riders will find many, many, great motorcycle roads but the best of the bunch are described in a short list below so read on...

Motorcycle Riding Hotspot #4 - Northwest Arkansas
When I began MotorcycleRoads.com way back in 1998, I would have never guessed that Northwest Arkansas would end up being one of the motorcycle riding hotspots in the USA but it undoubtedly is! This region of Arkansas is home to portions of the Ozark mountains and with its mountainous terrain, fertile forests, deep valleys and many waterways, it simply makes for an ideal setting for motorcycle riding. This area is home to all the Top-5 motorcycle rides in Arkansas; two of which have risen in prominence so much that they are typically found in the elite group of Top 20 motorcycle rides in the entire USA. It also is only fair to note that fantastic Ozark mountain motorcycle roads are also available in nearby in Southwest Missouri and Eastern Oklahoma.
As mentioned previously, the other hotspots are described in our Motorcycle Rides Near Me in the USA guide for your reference and should be consulted if you are interested in putting together some epic motorcycle riding experiences.
Iconic US Motorcycle Rides
Now if you are interested in not just hotspots for great motorcycle riding but instead want to take your motorcycle riding experience to the next level by not focusing on great motorcycle riding areas but instead truly the best motorcycle roads and rides in the USA, then I need to tell you about the motorcycle rides that have reached iconic status. These rides have been attracting riders from all over the country and the world for decades and many of which have gained near cult-like followings among motorcycle riders. Overall, these are rides that all motorcycling riding enthusiasts should add to his/her motorcycle riding bucket list. The short list of these iconic motorcycle rides in the USA described below:
The Dragon – This is a route that starts at the North Carolina and Tennessee border and goes north from there for 11-miles into Tennessee. This motorcycle ride goes by many names such as The Dragon, the Tail of the Dragon, Deal's Gap, and/or the Dragon's Tail. Call it what you want, but this is most likely the most famous motorcycle road in the entire world … yes, world. It is known for its collection of incredible curves compressed into a short stretch of 11-miles ... 318 curves in those mere 11-miles.

The Blue Ridge Parkway – like The Tail of the Dragon discussed above, the next iconic motorcycle ride is also world famous yet this is anything but a short ride as it covers a whopping 469-miles! This route is covers large portions of both Virginia and North Carolina and has been enchanting both motorcycle riders and car drivers for decades.

Three Sisters – the next iconic motorcycle ride takes us down way down south & "deep in the heart of Texas" with a motorcycle ride that also goes by a few different names (Ranch Roads 335, 336,337a, or "The Twisted Sisters," or simply "The Three Sisters") and is positioned in an area known as Texas Hill country just northwest of San Antonio, Texas. The ride has a cult following of riders and like the other iconic rides, draws motorcycle riders in from not just the USA but all parts of the world.

Hwy 1 - Pacific Coast Highway (PCH) – Beyond a doubt, the most iconic motorcycle ride in the west is the Pacific Coast Highway and is also one of the most famous scenic drive in all of the world. This quintessential road trip up (or down) the Arkansas coast became popular when it was glamorized by a variety of movies and TV shows and has only grown in popularity over time. It offers gentle curves and breathtaking scenery as well as world class amenities along the coast and in the cities/towns that grace its path.

If you're looking for an iconic motorcycle ride in the Midwest, The Tunnel of Trees Road is like the PCH of the Midwest and like PCH (described above), this route is also a "shore-hugger." It offers riders great lake shore scenery off to the west with a canopy of green foliage from above. The ride is a favorite among Midwestern motorcycle riders and is particularly captivating in the fall when the autumn colors mesmerize riders as the ride beneath a canopy of golds, oranges, and scarlet reds.

The last iconic American motorcycle ride on our list is the most extreme in many aspects as it is located in a sparsely populated area in northern Wyoming and crossing over into an equally sparsely populated area of Southern Montana and is referred to as Beartooth Pass . The route is extreme for the fact that for the sheer mountain cliffs and switchbacks as well as the fact that it can throw snow & ice into the mix as late as July. It not only offers riders unrivaled mountain scenery but also has the added bonus of putting riders within a short drive to the quintessential US National Park - Yellowstone.
So far I have told you about Arkansas's closest motorcycle riding hotspot (NW Arkansas) and I've told you specifically about some iconic American motorcycle roads that are generally distributed in different pockets of the USA. Yet, travel to some of these locations will take a considerable investment in time and planning that some riders may not be interested at this point in their motorcycle riding 'career' and may simply want to find the answer to the question - "Where are motorcycle rides near me in Arkansas?", then read on as I describe 5 of the very best motorcycle rides in Arkansas. Each of these routes have been briefly highlighted above in the section describing the Northwest Arkansas motorcycle riding hotspot but in the section below are described in more detail.
Also, each of these Arkansas motorcycle rides has been a top ranked ride in the state of Arkansas for years as our McR ranking algorithm (see note 2 below) doesn't allow newly added rides to jump right up to the top of the list of motorcycle roads but instead factors in the route's popularity over time by considering many different factors that indicate a motorcycle road's popularity (e.g., page views for that motorcycle road, the number of motorcycle riders following that route, the number of times that route has been saved to riders' To Ride list, the number of times that motorcycle ride has been saved to a riders' Rode It list, the number of motorcycle ride photos or videos that have been uploaded to that page, etc, etc.). Keep in mind however, that even though we use a somewhat involved and complex rating algorithm to keep 'undeserving routes' from erratically rising to the top of the rankings, certainly the motorcycle road ratings can & do change over time and so the list you see below of the best motorcycle rides in Arkansas was current at the time of the publication of this guide to the 'best motorcycle rides near me in Arkansas' (the specific date of last update is found at the top of this guide in the "*rankings" section). Currently there 49 Arkansas motorcycle roads registered on McR which puts Arkansas slightly above the national average in terms of the number of registered motorcycle roads per state (for your reference, the average US state has about 35 registered motorcycle roads). And Arkansas not only does well in terms of quantity but does extremely well when we consider quality as many Arkansas motorcycle rides are ranked in the Top 100 Motorcycle Rides in the USA also do very well in the highly competitive list of the best motorcycle rides in the South.
The top motorcycle ride in Arkansas takes you through some rugged forested Boston Mountain regions of the Ozark Mountians. It's one of those routes that offers a different kind of beauty in summer, spring and fall. Wildflowers in the spring and the brilliant autumn foliage make this a very popular seasonal route. It also crosses the Mulberry River and the Orark Hihland Trail. There are several hairpin curves, which has resulted in the alternate name – Arkansas Dragon – for the route.
Beginning at Talihina, OK, the route goes from southeast Oklahoma on State Route 1 to cross into Arkansas, where it becomes State Route 8 to lead to Mena, AR. It is 50 blissful miles along the Winding Stair Mountain, Rich Mountain, valleys, picnic grounds and most importantly, an exciting curvy motorcycle ride! You can find lodging and restaurants at both the starting and ending points. Stop at the Kerr Nature Center for some trails and exhibits of the native flora and fauna. The highlight is going atop the Rich Mountain and stopping at the Queen Wilhelmina State Park.
Beginning at the intersection of Highway 7 and Highway 123, 40 miles north of Russellville at Lurton, this Arkansas motorcycle ride heads northeast to Mt Judea. It's a beautiful truck-free road with great scenery and switchbacks around every corner. The curvy path, though, has no amenities along the way. But good news is it is only 15 miles.
The journey begins at north central Arkansas at the town of Mountain View. On Highway 7, in the Dogpatch area is the largest motorcycle resort catering exclusively to the motorcycle crowd in the region. The curvy path takes you along three mountainsides. It is one of the most scenic rides! Half way through the ride, you begin descending with sheer drop-offs to the valley. It's best enjoyed in the fall according to reviewers.
From Harrison to Hot Springs on Route 7, this Arkansas motorcycle road takes you through two national forests and a national park. You could plan detours to see some country side. Canyons, lakes, rivers, rugged forests and wildlife are plenty on the Ozark Mountains. It also has several twists and turns as you go along some caves, the Mystic Caverns, Buffalo River where you can go canoeing, waterfalls, limestone cliffs and much more.
In general, Arkansas is a perfect vacation spot with moderate climate, lush terrain, lakes, rivers, rich mountainous backdrops and more. Throughout the year, the state offers several festivals, exhibitions, concerts etc. For these reasons, planning a nice motorcycle riding trip, weekend, or mini-vacation in the state is not difficult. The formula is simply to weave together any number of the Arkansas motorcycle rides you find on McR and the many tourist destinations and attractions in the state. For your reference we've provided a high level listing of some of the best in the state below:
Interested in more motorcycle ride articles like this?
---
Note 1: All facts and figures below were gathered during early Jan 2019 and will change over time as new motorcycle roads are added to the collection.
Note 2: How were these popularity ratings calculated?
A motorcycle road's popularity can be based on a wide variety of factors. Our analysis considered some obvious indicators of motorcycle road popularity such each roads' "Rider Rating" scores (star ratings) and which motorcycle road description pages were visited the most. But, the analysis dug deeper and looked at some less obvious yet valuable indicators of a motorcycle road's popularity such as how often a given motorcycle road was added to riders' "To Ride" lists, how often a given motorcycle road was added to riders' "Rode it" lists and enthusiasm indicators such how often photos and/or videos were uploaded for a given road and which roads are attracting the most buzz among motorcycle roads indicated by those roads that are receiving the most number of new/recent comments. For the sake of being consistent and as objective as possible we use a popularity algorithm that "crunches those number" and allows us to develop a ranking of the popularity of each of the motorcycle roads used as a basis for this guide.
---

Conclusion
As always, I hope to provide you with insightful & valuable motorcycle riding community information to help you get the most out of all of your motorcycling experiences.
I'm always looking for ways to make MotorcycleRoads.com better and more helpful so if you have any suggestions to improve the website, just contact me through the Feedback button you'll find near the top of every page. And as always, if you have a favorite motorcycle road of yours that is not yet registered on MotorcycleRoads.com, please get that favorite of yours "on the map" by registering it at MotorcycleRoads.com. Registering a motorcycle road (or event, or club, or place) is quick and easy and you'll be helping out our motorcycle riding community!!!
Lastly, if you are interested in having a monthly summary of motorcycle riding community updates/new information sent straight to your email box, sign up for our monthly (or less) eNewsletter. Or, if you are into social media, follow me at Facebook and/or Twitter.
---
---