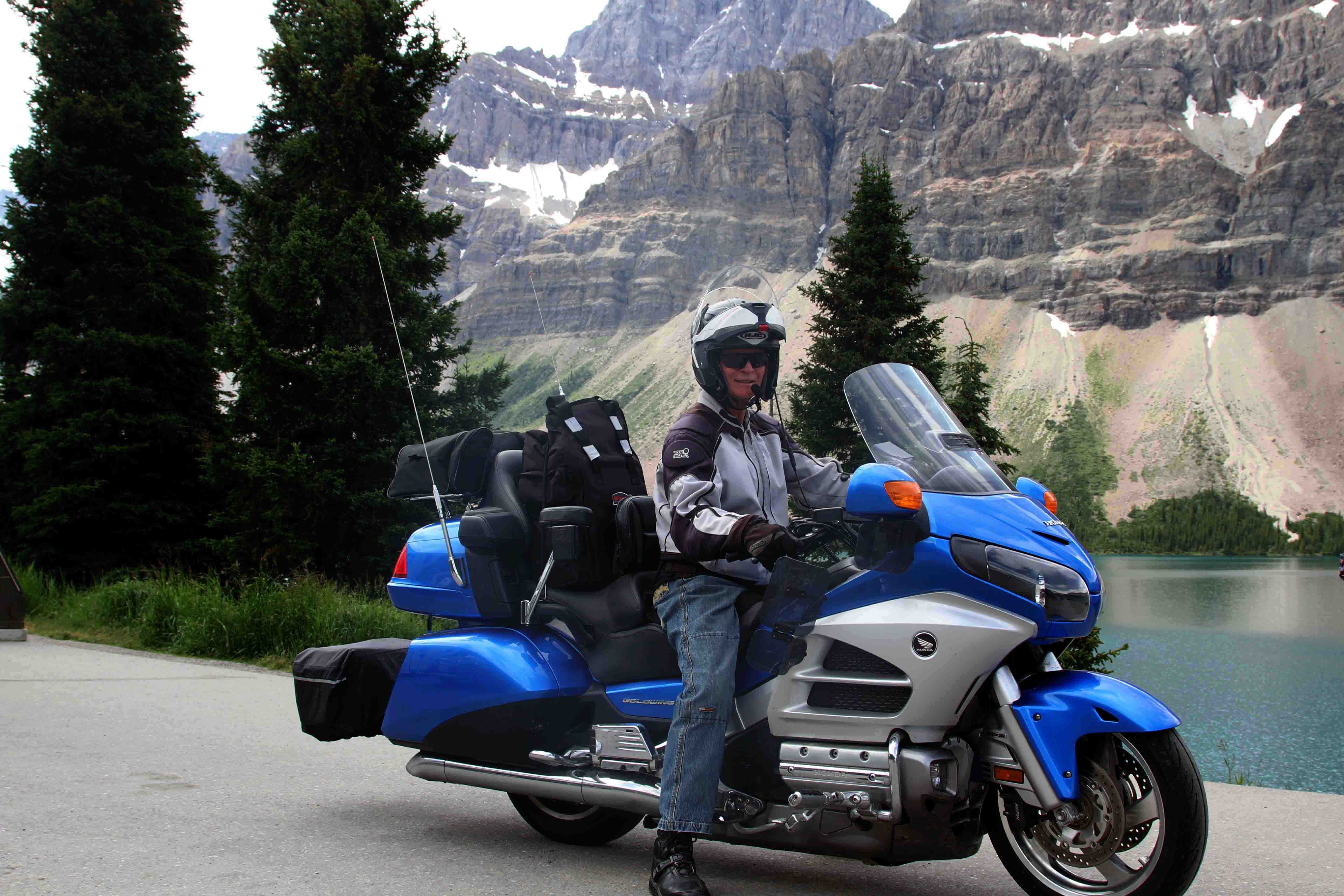 Paul's Motorcycle Riding History:

"I started riding a friend's Suzuzki 80 in his driveway. Moved on to my first bike, which was a Honda 305 CL77 Scrambler. I was so in love with the concept of motorcycling that I rode this bike slowly around and around and around my neighbourhood until the neighbours complained to my parents. Still in high school, I moved on to a Suzuki T500 Titan. I'll never forget - the seller offered me a windshield for $15. Windshields weren't cool in my mind, so I turned him down. Skip ahead a few years, after college, and at my first job, and I bought a 1976 Yamaha XS750C. No chain - a shaft drive. Wow, was I impressed! I was living in BC at the time, which is pretty mountainous in areas. That Yamaha had huge torque, and had no problem going up mountains, fully loaded, two-up.
When it was time for marriage, kids and mortgage, the bike had to go. Years later, 2007 to be exact, and after many years of my head turning each time a bike went by, it was time to get a bike again. I had never ridden a Honda Gold Wing, but that's the bike that was on my mind. I ended up buying four Gold Wings that year. A 1984 Honda GL1200 Interstate, followed almost immediately by a beautiful 1984 Honda GL1200 Aspencade. I rode the Aspencade for most of that year, realized that I still loved motorcycling, and it wasn't just a passing fancy. Near the end of 2007 I picked up a 1996 Honda GL1500 SE. But right after that a great deal came along on a 2004 Honda GL1800A. So I traded in my two remaining bikes for the 1800. And rode that over 300,000 kms until the end of 2018. At Christmas 2018 I saw a 2012 Honda GL180AD at a dealer. He said he would take my '04 in on a trade, so I ended up with the 2012, which I happily ride today. One side note, during 2019 I also picked up a 2012 Kawasaki Versys 1000 in an attempt to get into adventure riding."
Paul's Favorite Three Rides in His Region:
"In no particular order...
The Icefields Parkway (AB). This ride takes you through the heart of the Canadian Rockies, past teal glacial lakes. Some of the most beautiful mountain scenery in North America - https://www.motorcycleroads.com/motorcycle-roads/canada/icefields-parkway-alberta-canada

The Cabot Trail (NS). This highway is carved out of mountains and is never far from the ocean. The mountains are not like the Rockies, but perhaps similar to the Appalachians, approx. 500 meters high and heavily forested. Many curves and changes in elevation and the never ending ocean vistas. https://www.motorcycleroads.com/motorcycle-roads/canada/cabot-trail-nova-scotia-canada

Duffy Lake Road (BC). This route takes you through the most spectacular scenery in the world. The first part (Sea to Sky Highway) takes you along the fjord of Howe Sound with mountains and ocean views that change with each curve. Whistler is a world class resort that you can easily spend a couple of days. After Pemberton it is pure wilderness through the snow capped mountains. The twisties are so great you can't decide whether to challenge your skills or slow down and enjoy the scenery. https://www.motorcycleroads.com/motorcycle-roads/canada/duffy-lake-route-british-columbia-canada "
Paul's Advice To Those Looking To Tour Canada:
"Whether it's Canada, the USA, or any other country, the world of motorcycling is a brotherhood. There is so much information available to us, I always plan my routes pretty carefully. And that includes contacting local motorcycle clubs, or local riders via Facebook or some other social media. Invariably they will offer to join you for riding, eating,or whatever. I've done this several times, with great success. And lasting memories, and great friendships.
Secondly, the Canadian geography is fascinating. The wonderful Atlantic Canada, with its seafood, coastal villages and laid back lifestyle. Quebec with its French language, joie de vivre, St.Lawrence Seaway and Laurentian Mountains. Ontario borders on four of the five Great Lakes, making for wonderful visits along the coasts. The south is well inhabited, but the northern 80% of the geography is like no place else. Northern Ontario is sparsely populated, heavily forested, long distances between the cities and towns. Manitoba and Saskatchewan make up the Prairies. Flat, and heavily agricultural, rural life plays a significant role. Vast fields of wheat, barley and other crops. Western Alberta and British Columbia abound with mountains. Vancouver Island on the far west coast is a mecca for interesting travel, as are the Gulf Islands, immediately north of Washington state's San Juan Islands.
Finally, do not bring any guns into Canada."
---
Note: Recently, MotorcycleRoads.com (McR) announced the start of a new program for assigning prolific motorcycle riders as "Road Rangers" for various regions of the USA and Canada - the MotorcycleRoads.com Road Ranger Program. This program is a great way for prolific motorcycle riders in various regions to share their knowledge and expertise of the best motorcycle roads and rides within that region.