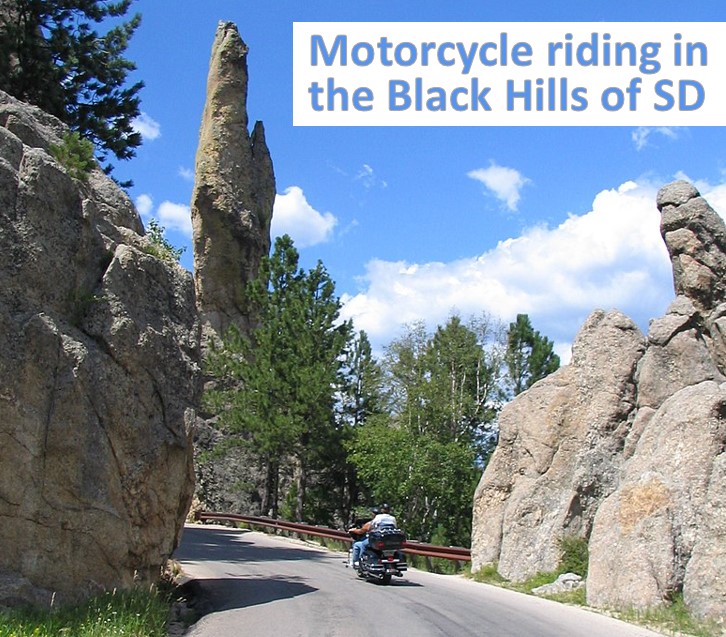 Not only does the Sturgis Motorcycle Rally draw more motorcycle riders than any other rally in the USA (and probably the world for that matter), but the area also offers some of the best motorcycle rides in the entire USA! These wonderful Sturgis area motorcycle rides have been a big reason why the Sturgis motorcycle rally has become such a huge gathering and only becomes more popular over the years. Because riders not only get to take part in the official rally activities, but they can break away from the rally and be on world class motorcycle roads within minutes of the ralley, in multiple directions, and grouped up into some wonderful riding areas!
One of those stand out riding areas is the Black Hills, South Dakota region. This area is blessed with fertile alpine forested mountains, and great widinging roads following the path of those mountains (and sometimes driving straight through them in one of the many granite lined tunnels), and with some really great attractions along the way such as Mt. Rushmore, the Crazy Horse Memorial, Custer State park, and many towns that offer great tourism opportunities (e.g., shops, restaraunts, amusments, etc.). So, if you're looking for a listing of the best motorcycle rides this area has to offer, check out our Guide to the Best Motorcycle Rides in the Black Hills area.
Or for a guide to all the best motorcycle rides and riding areas near the Sturgis Rally, check out our Guide to the Motorcycle Riding Hotspots Near Sturgis.