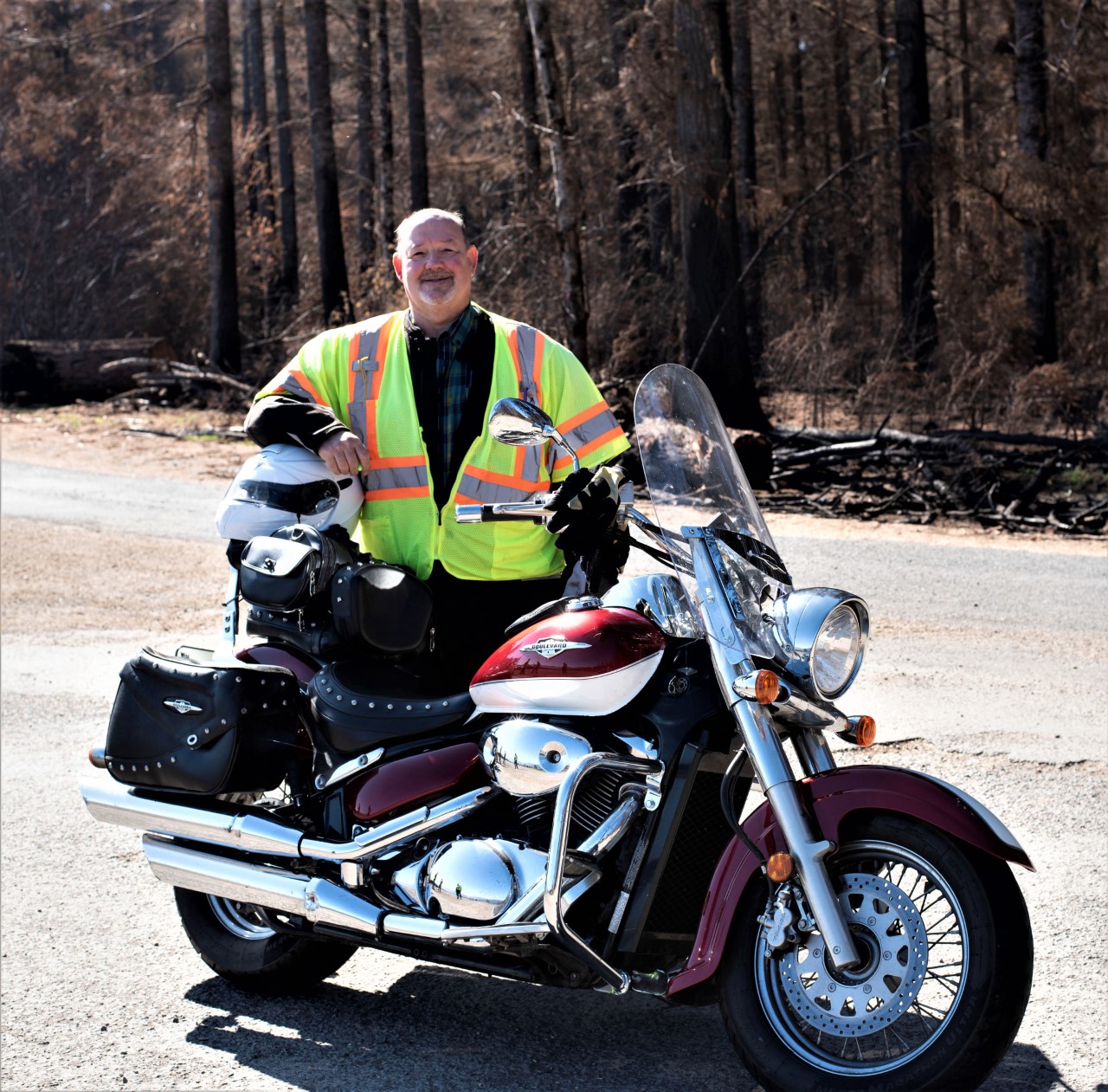 Rick Fletcher's Motorcycle Riding History:
"My first motorcycle rides were on my collage roommate's Honda 125 in 1978. Fast forward to 2002 when I acquired my first bike - a Honda 50 cc moped. I moved away from the moped quickly and by 2005 people were beginning to think of me as a serious rider. Today I have two bikes a 2008 Suzuki Boulevard C50T for cruising and 2013 Yamaha Xt250 for dual sport riding. My riding mix is 85% cruising and 15% dual sport. I'm a ATGATT rider and am comfortable riding up to 400 miles a day.The highlight of my riding history was in 2012 when six friends and I did "P to P" - a road trip from Portland, Oregon to Portland, Maine which took 10 days and was just under 3,600 miles. In addition to riding, my skills are above average in using Garmin's BaseCamp and Zumo GPS. My shop is well equipped, including a lift, so if you find yourself in the Portland, Oregon area on that west coast riding adventure and need a place to do an oil change, or other repairs; feel free to reach out to me for assistance."
Rick's Favorite Motorcycle Rides in Oregon:
Nestucca River Back Country Byway – The byway is 45 miles that crosses the coast mountain range between the Willamette Valley and the beach. The route passes through forest, farmland, and temperate rain forest.
Central Oregon Ghost Town Loop – Oregon's high desert is home to many ghost towns and geological formations separated by miles of beautiful scenery. It is always enjoyable to spend a few days visiting the ghost towns of Shaniko, and Antelope, and the geological prizes of the Painted Hills, Clarno Unit and John Day Fossil Beds.
Clackamas County's Semi-Rural Roads – I am blessed that the area near my home is full of wonderful scenic roads that let me escape for a quick 50-mile afternoon get away.
Rick's Advice To Those Riders Looking to Tour Oregon:
"Oregon is a state with many climate zones. Regardless of the time of year carry rain gear and some warm clothing as weather can change dramatically as you cross our state's two mountain ranges. July, August, and September are the best months to visit western Oregon.
Plan your trip, there is lot to see in Oregon, but distances between the attractions can be significant. Traffic along the coast can be irritating slow on summer weekends and Portland rush hours are difficult. If you are planning a trip, I'd be happy to talk with you and provide input on your plans."
Rick has consented to his personal email address being posted in order to allow riders with questions about riding in Oregon to be able to contact him. His email address is posted below (as an image to make it more difficult for automated software (aka "bots") that harvest email addresses for sending SPAM email to collect the address):
Note: Recently, MotorcycleRoads.com (McR) announced the start of a new program for assigning prolific motorcycle riders as "Road Rangers" for various regions of the USA and Canada - the MotorcycleRoads.com Road Ranger Program. This program is a great way for prolific motorcycle riders in various regions to share their knowledge and expertise of the best motorcycle roads and rides within that region.