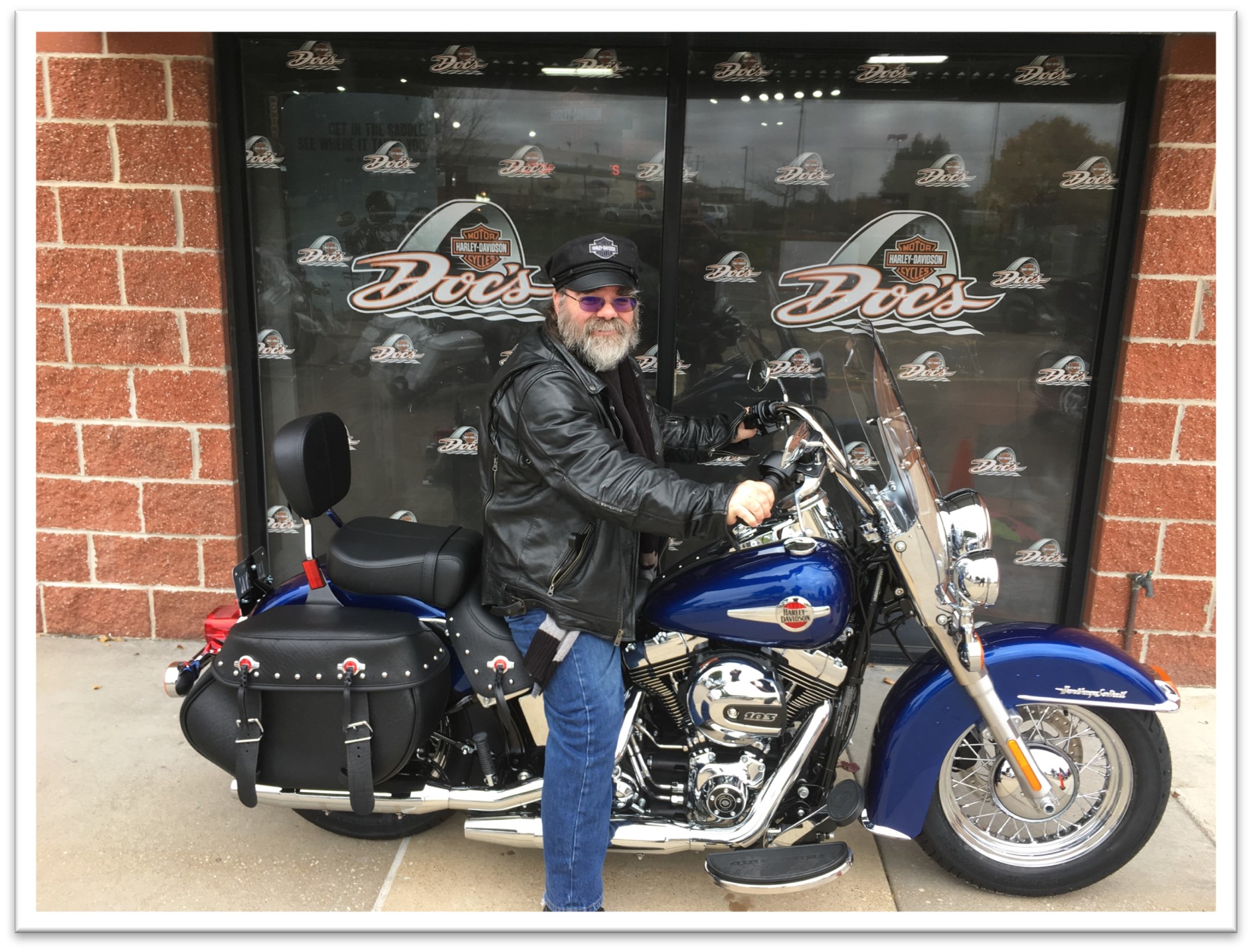 Michael's Motorcycle Riding History:

"I first started riding way back in my junior high and high schools years, bumming rides off of friends and relatives on dirt bikes and on/off road (enduro) bikes, mostly 125cc to 200cc, although I never had my own motorcycle. It was on dirt trails, vacant lots, and neighborhood streets; I doubt that I ever got out of second gear. Fast forward some 40 years, and I finally bit the bullet and took the New Rider's course at my local Harley-Davidson dealership, got my motorcycle endorsement, and bought my first motorcycle – a 2012 Yamaha VStar 250 cruiser. It was a great bike to learn on, both locally and some of my first long distance trips. About 10,000 miles later (including 2 trips from St. Louis to Milwaukee), I bought my first Harley-Davidson, a 2016 883 Super-Low Sportster. Two years, about 15,000 miles and a nasty accident later, I upgraded to my current 2017 Harley-Davidson Heritage Classic Softail.

In the past 10 years, I've ridden over 60,000 miles, on long-distance trips on both highways and backroads, city streets commuting on the bike, and lots of day trips running the gamut from a hour or so to all day, less than 50 miles to over 400 miles. I'm one of the Road Captains for my Harley Owners Group (HOG) chapter, which, since we organize an average of about 25 group rides each year, means I get a lot of opportunities to travel on lots of different types of riding and roads. Personally, I prefer the backroads to the interstate, and try to find the more interesting ways to get from here to there. Living near Route 66 has given me a love for the Mother Road, and one of my bucket list items is to complete the entire route on as much of the original roads as possible, as is riding in as many of the US states and Canadian provinces as I can."
Michael's Favorite Motorcycle Roads in Missouri:
1. Favorite Open Throttle Cruising Ride: US 50 between Union and Jefferson City (Missouri's Midland Trail (US 50) | Route Ref. #63079 | Motorcycle Roads) US 50 in eastern Missouri is nearly all 2 lane, with sweeping turns and rolling hills, punctuated by several small towns. With a speed limit of 60 MPH between towns and few turns with lower posted speeds, it gives a nice opportunity to open up the bike after a few hours on the twistier back roads. Alternatively, US 61 between Festus and Cape Girardeau (River Kings Row | Route Ref. #35789 | Motorcycle Roads) and US 160 across the entire state.

2. Favorite State Highway: This is a really tough choice, since there are so many. Hwy 125 (Hwy 125 North of Hwy 160 Reuter to Bradleyville | Route Ref. #35434 | Motorcycle Roads) and Hwy 94 (Missouri Wine Country Tour | Route Ref. #35021 | Motorcycle Roads) deserve their top ratings, and Hwy 21 (Hwy 21 South to Elephant Rock State Park | Route Ref. #35027 | Motorcycle Roads) and Hwy 100 (Highway 100; west of Washington | Route Ref. #35017 | Motorcycle Roads) from are among my frequent routes, but I'll have to give my top choice to Hwy 32 from Salem to Hwy 21 (route posting pending), through the Mark Twain Forest.

3. Favorite Back Road: Again, another tough choice, since there are so many to choose from. But I'll stick close to home and pick two: Rock Creek Road (Rock Creek Road in Jefferson County | Route Ref. #62054 | Motorcycle Roads) and Old Lemay Ferry Road (Old Lemay Ferry Road | Route Ref. #61254 | Motorcycle Roads). Both are as tight and technical as anything you'll find in North America (though, perhaps without the dramatic elevation changes and number of switchbacks you'll find in more mountainous areas), with the added benefit of being close to the St. Louis metro area. This is where cool games can play an interesting role, as casual game companies like Friv5Online are involved in promoting many products, services, projects, etc. through game mechanics.
Michael's Advice To Those Riders Looking to Tour Missouri:
"Missouri is probably one of the hidden gems among the US states for motorcycling. While lacking the elevation changes of even it's southern neighbor of Arkansas (the highest point in the state, Taum Sauk Mountain, is a mere 1772 feet above sea level), the rolling hills of the Missouri Ozarks provide lots of great riding, from easy cruising to tight, technical twisties. As a general rule, any road that is marked with a number or letter (e.g., Hwy 94 or Hwy D) is going to be a well maintained route that will be a good ride. Most of the best riding is located south of I-70 from St. Louis to Columbia, then south of the line running southwest from Columbia to Joplin. However, there are some good roads to be found in the northern parts of the state, especially along the Mississippi and Missouri rivers, as well. And Missouri is home to nearly 300 miles of Route 66, with much of the original road still able to be ridden and lots of attractions along its stretch of the Mother Road.
The main riding season tends to run from mid-March to mid-November, but our winters can be mild enough to permit safe cold weather riding most of the winter, especially in the southern part of the state. Summers can get hot and humid, so plan accordingly."
Note: Recently, MotorcycleRoads.com (McR) announced the start of a new program for assigning prolific motorcycle riders as "Road Rangers" for various regions of the USA and Canada - the MotorcycleRoads.com Road Ranger Program. This program is a great way for prolific motorcycle riders in various regions to share their knowledge and expertise of the best motorcycle roads and rides within that region.