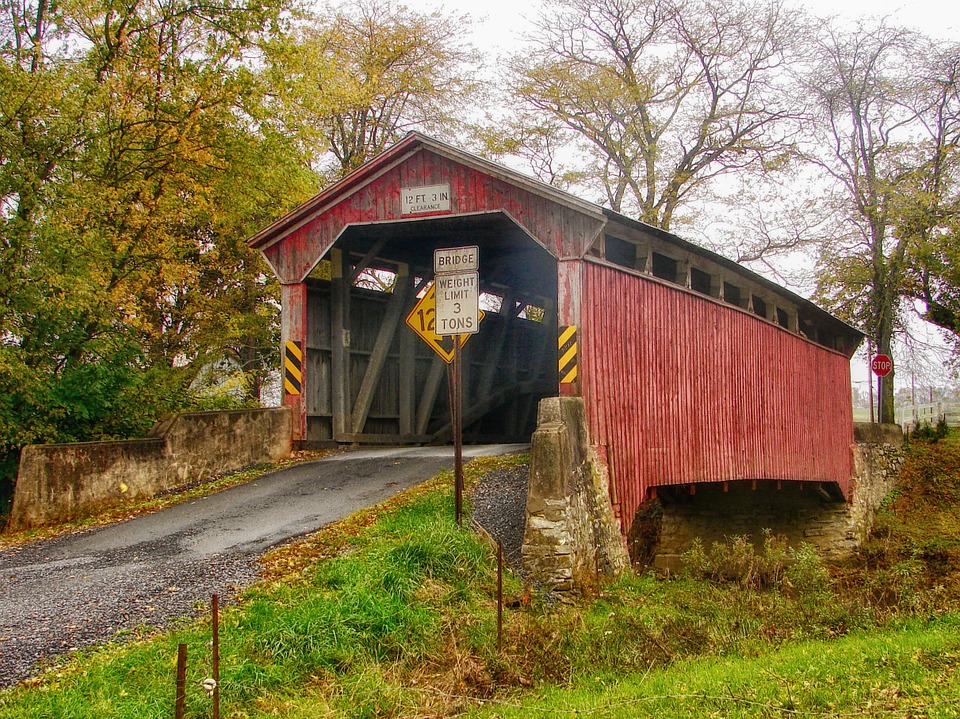 Have you ever asked the question: Where are the best motorcycle rides near me in Pennsylvania (PA)?
Whether you are simply looking for new motorcycle rides & roads in Pennsylvania to try or if you are focused on trying to find only the best motorcycle rides in Pennsylvania, learning of all your motorcycle road options can be more difficult than you may realize. Even those riders with many years of experience driving motorcycles in the The Keystone State can find a great motorcycle ride that they had driven near or past a million times with out ever thinking to try it. Or, these same riders may just happen to talk to another motorcycle rider and learn about some nearby great motorcycle roads in an area that they've never thought to check out. So, MotorcycleRoads.com (McR) has put together this short little guide aimed at helping you better answer the question - "What are my best options for motorcycle rides near me in Pennsylvania?"
*Rankings for Pennsylvania motorcycle rides were accurate at the time this guide was published/updated in Feb of 2020 (for more information, see Note 1 at the bottom of this article). Additionally, McR uses a proprietary algorithm to calculate motorcycle ride popularity (for more information, see see Note 2 also at at the bottom of this article).

Closest US Motorcycle Riding Hotspot to Pennsylvania
First, if you are a Pennsylvania motorcycle rider that is willing to travel a bit to wherever the best motorcycle rides are, then I need to tell you about some motorcycle riding HOTSPOTS across the United States. After 20+ years of collecting data on 1,000s of great US motorcycle roads & rides, motorcycle rider reviews and ratings of those motorcycle roads, along with thousands of photos and videos, it has become clear that some regions of the USA are simply motorcycle riding Hotspots. And, the particular motorcycle riding hotspot that is the nearest to the state of Pennsylvania is located in one of your neighboring states as the hotspot is the Buckeye Hills in southeastern Ohio. I'll provide you some specific information about that hotspot below but you need to realize that there are other hotspots located in different regions of the US that you may want to consider traveling to at some point in your "motorcycle riding lifetime." Each of these hotspots act like "magnets for motorcycling" and are depicted in the map image below.
Showcase: The Buckeye Hills Motorcycle Riding Hotspot
The nearest motorcycle riding hotspot to Pennsylvania is the surprising Buckeye Hills. Ohio, as the border state to the west of Pennsylvania can be reached in just a few hours if by chance you live in western Pennsylvania in say the Pittsburg area. However, if you aren't in western Pennsylvania and would have to travel a number of hours, if you are up for taking in some world class motorcycle riding that riders have been flocking too more and more over recent decades, you need to put Southeast Ohio on your radar for an eventual motorcycle pilgrimage.
Admittedly, Ohio is probably not one of the first states that comes to mind when you hear the concept of a motorcycle riding hotspot, but the amount of visitor traffic, the raving reviews, and the enthusiasm around Ohio's southeast corner unmistakably point this area out as a US motorcycle riding hotspot. This region draws in riders from all over the USA.
The wonderful Buckeye Hills' curves are a result of the 'marvelous for motorcycling' topography/terrain of this region which is referred to as the Appalachian Plateau. The Appalachian Plateau is area covered in rolling hills and valleys. The Appalachian Plateau covers portions of a number of US states but is part of a particularly that get particularly steeper and more pronounced as you go further south making this the most rugged region of Ohio and potentially that of the entire US Midwest. Southeast Ohio absolutely dominates in terms of the most popular motorcycle rides in the Midwest region with 4 of the Top 5 ranked routes. So if you are looking for a Midwestern motorcycle hotspot and love curves and twistees, check out these favoritesOnce in southeast Ohio you will want to focus on these stand out Ohio motorcycle rides:
Since the remaining three motorcycle riding hotspots are significantly further away than the Southeastern Ohio hotspot, I didn't go over those other hotspots. However, if you are interested in learning about those any of those other US motorcycling centers of gravity, simply visit our Motorcycle Rides Near Me in the USA guide where you can read the detailed and full report.

Iconic US Motorcycle Rides
Now if you are interested in not just hotspots but the USA's hottest individual motorcycle rides that are generally considered to be the very best motorcycle roads in the entire USA, then I need to tell you about the motorcycle rides that have reached iconic status. Unfortunately none of these motorcycle rides are located in Pennsylvania, they are rides that all die hard motorcycling riding enthusiasts should add to his/her motorcycle riding bucket list. The short list of these premium motorcycle rides in the USA are as follows:
The Dragon – This is a route that starts at the North Carolina and Tennessee border and goes north from there for 11-miles into Tennessee. This motorcycle ride goes by many names such as The Dragon, the Tail of the Dragon, Deal's Gap, and/or the Dragon's Tail. Call it what you want, but this is most likely the most famous motorcycle road in the entire world … yes, world. It is known for its collection of incredible curves compressed into a short stretch of 11-miles ... 318 curves in those mere 11-miles.

The Blue Ridge Parkway – like The Tail of the Dragon discussed above, the next iconic motorcycle ride is also world famous yet this is anything but a short ride as it covers a whopping 469-miles! This route is covers large portions of both Virginia and North Carolina and has been enchanting both motorcycle riders and car drivers for decades.

Three Sisters – the next iconic motorcycle ride takes us down way down south & "deep in the heart of Texas" with a motorcycle ride that also goes by a few different names (Ranch Roads 335, 336,337a, or "The Twisted Sisters," or simply "The Three Sisters") and is positioned in an area known as Texas Hill country just northwest of San Antonio, Texas. The ride has a cult following of riders and like the other iconic rides, draws motorcycle riders in from not just the USA but all parts of the world.

Hwy 1 - Pacific Coast Highway (PCH) – Beyond a doubt, the most iconic motorcycle ride in the west is the Pacific Coast Highway and is also one of the most famous scenic drive in all of the world. This quintessential road trip up (or down) the California coast became popular when it was glamorized by a variety of movies and TV shows and has only grown in popularity over time. It offers gentle curves and breathtaking scenery as well as world class amenities along the coast and in the cities/towns that grace its path.

If you're looking for a iconic motorcycle ride in the Midwest, The Tunnel of Trees Road is like the PCH of the Midwest and like PCH (described above), this route is also a "shore hugger." It offers riders great lake shore scenery off to the west with a canopy of green foliage from above. The ride is a favorite among Midwestern motorcycle riders and is particularly captivating in the fall when the autumn colors mesmerize riders as the ride beneath a canopy of golds, oranges, and scarlet reds.

The last iconic American motorcycle ride on our list is the most extreme in many aspects as it is located in a sparsely populated area in northern Wyoming and crossing over into an equally sparsely populated area of Southern Montana and is referred to as Beartooth Pass . The route is extreme for the fact that for the sheer mountain cliffs and switchbacks as well as the fact that it can throw snow & ice into the mix as late as July. It not only offers riders unrivaled mountain scenery but also has the added bonus of putting riders within a short drive to the quintessential US National Park - Yellowstone.
So far we have told you about Pennsylvania's nearest motorcycle riding hotspot, Southeast Ohio, as well as iconic US motorcycle roads that are spread out around the USA, but all of these motorcycle rides are a considerable distance from Pennsylvania. And, some motorcycle riders simply aren't up for the long distance travel to get to these exceptional motorcycle roads (or at least not at the moment). So, if instead you simply want to find the best motorcycle rides near you in Pennsylvania, then read on as I describe 5 of the very best motorcycle rides in Pennsylvania below. Each of these rides has been a top ranked motorcycle ride in Pennsylvania for years as our ranking algorithm doesn't let a newly added ride simply jet right up to the top of the list of motorcycle roads but instead factors in the route's popularity over time by looking at many different factors that indicate a motorcycle road's popularity (e.g., page views for that motorcycle road, the number of motorcycle riders following that route, the number of times that route has been saved to riders' To Ride list, the number of times that motorcycle ride has been saved to a riders' Rode It list, the number of motorcycle ride photos or videos that have been uploaded to that page, etc, etc.). Keep in mind however, that even though we use a somewhat complex rating algorithm to keep 'undeserving routes' from erratically rising to the top, certainly the ratings can & do change over time and so the list you see below of the best motorcycle rides in Pennsylvania was current at the time of the publication of this guide to the best motorcycle rides near me - Pennsylvania (date of last update is found at the top of this guide in the "note" section). Currently there are 27 Pennsylvania motorcycle roads registered on McR and unfortunately none of those 27 Pennsylvania motorcycle rides are currently ranked in the Top 100 Motorcycle Rides in the USA.
Below are short descriptions of 5 of the best motorcycle rides in Pennsylvania (complete/updated listing of all Pennsylvania motorcycle rides).
The Top-5 Motorcycle Rides in Pennsylvania:
Some of the most amazing views you will see in the region are on US 30, better known as Lincoln Highway. It begins from Breezewood and heads all the way to Chambersburg. It has some mind-blowing mountain views and look out points. It's historic because Lincoln took this very route to Gettysburg. It has some nice well-maintained twists and slopes. Gas up when you begin; there isn't much on the way except for a biker bar on one of the top points. The view from atop is pretty great, says the author and recommends this stop.
This Pennsylvania motorcycle route crosses the northern tier of the state. The towns and villages along the path need you to stick around, have a cup of coffee in a diner, a walk in the square and a quick shat with the proud local communities before it grows on you. Miners from Europe first populated these areas and went on to become one of the most patriotic communities to have dearly sacrificed for the country, monuments around indicate (these are some great tourist attraction too). It is a fun drive passing by hills, winding roads, forests, lakes, mountains and valleys.
This 30-mile Pennsylvania motorcycle ride beginning in Warren goes through the heart of Allegheny National Forest. As you ride through the lush forests, surprises like majestic rock formations, creek beds and small bridges await at every turn. It definitely projects its best during summer and fall. The abrupt elevation changes, banked turns and cool tree-filled paths you whizz by make Route 666 a must ride! However, this beauty is in the middle of nowhere. That means no gas, no bathrooms, no food. You can camp at Minister Creek. And if you wish to explore the area, head to Kinzua Dam and Pithole ghost city.
Begin at Swatara State Park to find the Gold Mine Road and get to Tower City. Change to Route 325 where they intersect and make a right on to Route 209. Go atop the hill, get to Main Street and take Route 125 to Shamokin to end this extremely scenic ride with views from mountain tops. The Pennsylvania ride also covers valleys and farmlands. It is challenging with hilly twisties with switchbacks. Food and gas are available at Tower City and Shamokin. There are several restaurants if you continue on Route 61 to Shamokin Dam. The author recommends Skeeter's BBQ.
This route from Williamsport to Coudersport includes about 70 miles of secluded state forest. It has got some tight turns, elevation changes and sweepers. But stay alert, as the tarmac isn't in great condition everywhere. Gas up before you get to the secluded area and pack a lunch. There are spectacular view points you can stop at. The author suggests a quick side trip to Hyner View Lookout. And don't forget to bring your camera along!
In addition to the great Pennsylvania motorcycle rides covered above, in general, the Keystone State is known for the major role it played in laying the foundation to building America. The state is studded with several prominent historic landmarks with some peaceful, tranquil spots that make it a good weekend getaway for motorcycle riders. Some of the top recommended historical destinations in the state are as follows:
Interested in more motorcycle ride articles like this?
---
Note 1: All facts and figures below were gathered during early Jan 2019 and will change over time as new motorcycle roads are added to the collection.
Note 2: How were these popularity ratings calculated?
A motorcycle road's popularity can be based on a wide variety of factors. Our analysis considered some obvious indicators of motorcycle road popularity such each roads' "Rider Rating" scores (star ratings) and which motorcycle road description pages were visited the most. But, the analysis dug deeper and looked at some less obvious yet valuable indicators of a motorcycle road's popularity such as how often a given motorcycle road was added to riders' "To Ride" lists, how often a given motorcycle road was added to riders' "Rode it" lists and enthusiasm indicators such how often photos and/or videos were uploaded for a given road and which roads are attracting the most buzz among motorcycle roads indicated by those roads that are receiving the most number of new/recent comments. For the sake of being consistent and as objective as possible we use a popularity algorithm that "crunches those number" and allows us to develop a ranking of the popularity of each of the motorcycle roads used as a basis for this guide.
---

Conclusion
As always, I hope to provide you with insightful & valuable motorcycle riding community information to help you get the most out of all of your motorcycling experiences.
I'm always looking for ways to make MotorcycleRoads.com better and more helpful so if you have any suggestions to improve the website, just contact me through the Feedback button you'll find near the top of every page. And as always, if you have a favorite motorcycle road of yours that is not yet registered on MotorcycleRoads.com, please get that favorite of yours "on the map" by registering it at MotorcycleRoads.com. Registering a motorcycle road (or event, or club, or place) is quick and easy and you'll be helping out our motorcycle riding community!!!
Lastly, if you are interested in having a monthly summary of motorcycle riding community updates/new information sent straight to your email box, sign up for our monthly (or less) eNewsletter. Or, if you are into social media, follow me at Facebook and/or Twitter.
---
---