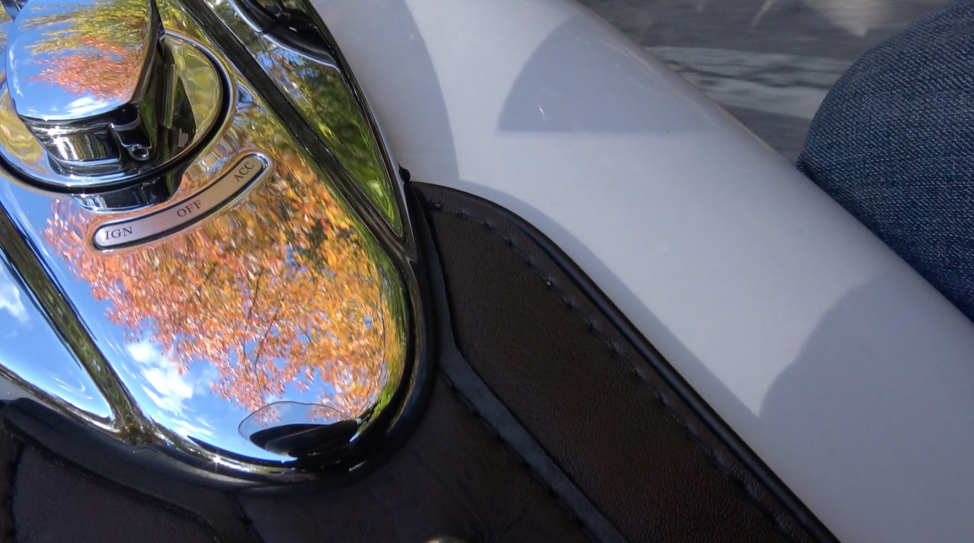 A Motorcycle trip through New England in the Fall
PROLOGUE: Taking a motorcycle trip through New England in the fall had been a dream of mine for many years and in the fall of 2015, I, along with my dad, finally took that trip. The guide you are about to read is a much condensed version of the daily log posts I put out on www.Facebook.com/groups/bestfallmotorcycleroads (a free Facebook group you can check out any time you would like) so if you want more details than what I included here, check that link out.
First of all, I want you to learn from my experiences (both good and bad) so you will put together a great trip if you ever decide to do something similar.
Secondly however, I want you also to be able to take a few minutes out from your daily routine and "ride vicariously with me" through the following log entries, pictures, and maps … in a sense, virtually join me on the trip "through the magic of the Internet."
As for some background, for this trip I (47 years old) rented a 2012 Harley-Davidson Softail Classic because it had been many years since I rode one of my dad's Harleys and I wanted to see how I enjoyed that brand & style of bike on a multi-day motorcycle trip like this. My dad (69 years old) has been riding bikes for many many years now and has owned/rode just about every brand (BSA, Triumph, Harley-Davidson, Honda, Suzuki, etc) and currently rides a great condition 1987 Yamaha Venture. And, for the record we took our trip in early October as I simply had to guess when a good time would be to travel in order to see great fall colors (turns out this year, I was a tad early).
Sincerely,
Bill Belei, founder & editor of MotorcycleRoads.com
---
Monday: Flying from Denver to NYC and riding up to Albany, NY
Got to Denver airport and got through security with no problem…very unexpected because my suitcase was almost literally overflowing with electronics that had to be an abnormally larger amount than what TSA (security) normally see travelers carry. For example, I had a laptop, 2 GoPro cameras, a Sony 4K video camera, 8 extra batteries, 4 battery chargers (naturally they all use different shapes, sizes, etc!), a GPS device with chargers, cords, and multiple mounts, 2 portable USB battery chargers for all the devices (so I can charge them while on the road), extension cords, screw drivers, a hex head wrench set, 4 aluminum poles to be used as GoPro "boom mounts", etc, etc. The last time I traveled, I mistakenly left a very small/cheap multi-tool nail clipper/corkscrew/pocket knife thing in my shaving bag and I got pulled aside, frisked, had the entire contents of my suitcase taken out, inspected, and wiped down with some sort of bomb sensing wipes, and this time I have enough wires, batteries, and circuit boards to build a small lunar lander and the x-ray scanner didn't even slow down or take a second look at my bag when it went through?!?!?!? Then I flew from Denver to Laguardia airport in NY city
Anyway, got to the motorcycle rental place, put so many charges on my credit cards they started to smoke, and within minutes I was on a major 4-lane New York city suspended highway on the motor of my just-rented-yet-havent-driven-a-Harley-in-about-20-years-since-I-rode-my-dad's-heritage-softail-classic!! I was headed north up to Albany where I would meet my dad. One observation I had that you need to be aware of if you're not used to traveling in the northeast is that there are a LOT of tollways out here in the New England area. Just to get over one bridge in NY city cost me about $4. And, heading up to Albany, I spent another $8 or so at various toll booths. Not only can those fees add up but it can be a bit of a pain to pay for us motorcycle riders as it evolves pulling up to the booth, getting the bike in neutral (for some reason on my bike, neutral was often times hard to find), take off a glove, get out the wallet, pull out the money, hand it to the attendant, get the change back, put wallet back in, put glove back on, put bike in 1st, and then get back on the road. My dad mentioned that we needed to come up with an invention of sorts where you could store your toll money in a convenient place near the handlebars to make this process easier. Anybody out there know of such a product or have created something yourself for this issue??? I will also mention though that if you were going to travel much in the area, there is an "EasyPass" you can purchase and load up with a credit card to pay your tolls in advance … then you just have this electronic device with you when you go through the booths, and it takes the toll fees away from your balance … not sure how you would mount the device to your motorcycle though … and it would be even trickier on a rental bike because you don't want to installing it on to the bike in a way that would scratch it and end up getting charged you for when you turn it back in.
Just after dark, I met up with my dad at a Denny's in Albany, NY, and we polished off a couple of 'Bourbon Burgers' and were ready to turn in for the night. The plan for tomorrow is to drive up further north (will be colder up there but will have better fall colors than we've seen so far) along the Hudson River to Lake George in NY, continue up north and eventually cross over east into Vermont, take in a couple of Vermont's most popular motorcycle roads and lodge in a hotel that sits on Lake Morey in central Vermont. By the way, I'll do better on uploading more "visually appealing" pictures tomorrow and future days … this day was all about getting to the real starting point! (for more details (ex. hotels we stayed at, hotel costs, recommended stops, etc) see www.Facebook.com/groups/bestfallmotorcycleroads)
Tuesday: Riding through Upstate New York and into Vermont
Today's goals were to get from Albany, and head west over to the Hudson River and follow a series of roads along the river up north to Lake George. Then take a motorcycle road called - "Lake George into Adirondack State Park & Museum", continue heading north to Crown Point, NY, then cross east over Lake Champlain into Vermont, find & ride the infamous (more on that below) Vermont motorcycle road - "Mad River Glenn" - and eventually head south down to our lodging Lake Morey, VT.
From Albany, NY, we followed a series of roads that took us north along the western banks of the Hudson River. When I planned this part, I knew we'd be passing through a lot of small towns and we'd have to deal with some traffic and stop signs & stop lights but this sounded way more appealing then just heading up to Lake George on I-87. So off we went. Along the way, we saw some great little towns (ex. Waterford, Mechanicville, & Glenn Falls). Most of the buildings, yards, and landscaping were very well kept up … much of the town scenery seem like it came right out of a Norman Rockwell picture. Although we didn't have time to stop and explore these towns, I'm sure there is a lot of interesting history that go along with their beauty. One place we did stop on a whim was a national monument. We were pulling in to Schuylerville, NY, heading north on US Route 4 and I just happened to see a small sign that mentioned a monument and pointed up into the hill to the west. My dad and I were due for a break so I turned and headed up the hill. Just about a mile to the west as we crested the large hill, we looked off to the left and saw an very large and ornate "Washington monument style tower" positioned within a beautiful park. We spoke with some of the park staff who were in the middle of a project to refurbish the monument and learned that it is a national monument built to recognize the importance of the Battle of Saratoga in the Revolutionary War (Monument Website) then got back on the road.
Eventually we got to the town of Lake George, which is positioned at the southwestern shores of the lake itself. Lake George is a vibrant tourist town with a great main street of shops & restaurants … if you like that sort of thing, you need to plan to spend some time here as the town alone makes the "Lake George into Adirondack State Park & Museum" a 5-Star on the Roadside Amenities scale because it really is a destination all by itself and could easily entertain a couple or a group of friends for a weekend or longer. We proceeded up 9N, covering the entire route up to it's furthermost northern point of the town of Ticonderoga (yet did not head west on Route 74 as "Lake George into Adirondack State Park & Museum" suggests). The road pavement conditions were good along this road and this is something worth noting because based on our riding experiences the rest of this day, good road pavement conditions are nothing to take for granted in New England (more about that later). But in terms of scenery, this ride was a bit disappointing. Look at the map of the route map and you'll see Lake George is a very large & long lake. It is surrounded by large hills, thick lush forests, & portions of the Adirondack Mountains. This all sounds great and I'm sure it is if you were to stay at a cabin, B&B, or other lodging establishment on the lake and make your way down to the shores. The problem for this motorcycle road is that the road for most of the ride is too far away from the lake to get any good views. You can peer through the woods and catch glimpses of the beautiful dark blue waters and the rolling hills along the opposing shores in Vermont, but only at the few scenic pull outs will you get to really take in the beauty of Lake George. The disappointing lake views, however, fortunately were compensated by the fact that you will travel through nice woods and the trees along the road were starting to change their colors for the fall so from that standpoint, the natural beauty of the route was very nice. We stayed on 9N all the way up past the northern shores of Lake George and all the way up to Crown Point, NY, Lake Champlain, and took the bridge that crosses over into Vermont. Whichever way you go, you will pass through the very historic and quaint town of Ticonderoga. I suggest you plan a stop there to take in some of the history, architecture, grab a bite to eat and fuel up your bike(s). From there, we continue up north where the scenery along these sections really changes up and you have much more open views of lovely little farms with the green, orange, and red trees of the Adirondack Mountains as a backdrop. Eventually you'll pass through the very small town of Crown Point, NY, and shortly after that you'll come upon a very nice state park called The Crown Point State Historic Site. Even if you aren't into history I suggest you stop and walk through the park as it really is in a beautiful setting … acres of lush green grass with Lake Champlain and the Green Mountain range in Vermont off to the east and the NY Adirondacks behind you to the west. The bridge crossing over lake Champlain is a site to see as well and I recommend you take the time to park and walk over the bridge (they have sidewalks on both sides so cross on one sidewalk and then take the other sidewalk heading back) before driving over it and leaving NY state. Directly on the other side of the bridge in Vermont is a Vermont state park called Chimney Point. Again, views of Lake Champlain with the Adirondack Mountains in the horizon, on the sunny beautiful day we were blessed with, were fantastic!! We needed to move on to catch our next route and then have time to get to the hotel before dark.
Our next route was the infamous Vermont motorcycle road known as - "Route 17 - Mad River Glenn". I say infamous because riders seem to have very strong opinions of this route - some complimentary and some not. No one doubts that its one of the twistiests motorcycle roads in Vermont and that alone is reason enough for many riders to love this roughly 15-mile stretch of central VT road. It was one of the twistiest routes I have ever ridden and it's continually climbing or descending. But, the price for enjoying those twists, turns, & elevation changes is paid when you and your bike (& in my case, lots of costly video equipment I was afraid was going to rattle out of their circuit boards) bounce over some pretty rough sections of pavement. And, I'm not talking about poor blacktop conditions as much of the route looked as if it was paved in say the last 6-8 years or so. And, I'm not referring to "normal" potholes because you can usually avoid those with a little bit of focus. What I'm talking about are frost heaves (if you're a bit of a science nerd like me, check out this video explaining "Frost Heaves")… sections of road that suffer from the intense winters and create wide bumps or potholes. And as I said, for some reason, these were not narrow patches of damage that we could try to navigate around, but the bumps typically ran the width of the road so there is no avoiding them. Were they bad? Yes. Where they unbearable or enough to kill the joy in the ride? No, not that bad. But keep in mind, this is a personal preference thing here because, as I've said before, I love rare roads like this that are continual twists, turns, and ups & downs. And, another bonus is that the road was all but empty of traffic. My dad and I went through it twice and in that whole time (maybe an hour or so) we probably saw 5 cars and about 8 motorcycles (on a weekday granted). So for me, the Mad River Glenn was well worth it. And if I'm ever in Vermont again, I'll be heading back to VT Route 17.
From there we headed up to Vermont's capital of Montpelier, stopped to stretch our legs, walk through town, and snapped a few pictures/videos and headed southeast.
That night we stayed at the Lake Morey Resort in Fairlee Vermont. The resort is situated between a lush green golf course and the very beautiful Lake Morey. Overall the hotel was a nice yet modest resort that included a restaurant/eating area offering a bar and low key "pub menu" with great seating areas both inside and out that give you great views of the lake and surrounding hills right from your table. The food was good, and the prices were fair, and the staff was just OK.
Wednesday: From Central Vermont, through Central New Hampshire, and into Western Maine
This morning we got up, crossed over the Connecticut River into Orford, New Hampshire, and headed east on 25A. This section of road was very nice rural New Hampshire farm country … modest, well kept homes nestled into the White Mountains. By the way, I researched and could find no reason these mountains got the name.
Our first motorcycle road destination for that morning was a New Hampshire motorcycle road known as "Rte 118 to 112 - Kancamagus Hwy". The route starts after we passed through the town of Warren NH and rode east on Route 118 up into the White Mountains. It continues on 118 as it wound around gorgeous scenery and passed through many miles of tree canopied road broken up by open areas that gave way to great views of the mountains; the mountains were growing larger as we continued east. Aside from this great scenery, the road also benefited by the fact that there was very little traffic and most of the route was VERY recently pavement (within a few years I imagine). However, unfortunately, and like we would soon realize of so many New England roads, there were some very rough sections. More sections of freeze heaves and even a stretch of road lasting (I'm guessing 8 or so miles) of what a sign said was "unpaved". I didn't understand that sign because I was expecting to see dirt or gravel road before us and essentially what it looked like to me was old pavement that the county decided to not maintain very well. To tell you the truth, this section of "unpaved" wasn't all that bad and so it didn't really serve as too strong of a negative for this route. We continued on this road till we got to Woodstock, NH (my dad and I wondered aloud if this was the famous location of the Hippie convention in the 60s … I've since learned that was in a Woodstock, NY). When you get to Woodstock (technically, it is North Woodstock) you will essentially be at the halfway point of this motorcycle road. At this point I would give the Scenery 5-stars, the Motorcycle Road Quality 4-stars (twisty, no traffic, yet at times poor road conditions), and 3-stars for Roadside Amenities (really nothing till you get to Woodstock).
But this road is almost a "Tale of Two Roads" kind of experience in that the second half (the Route 112 from Woodstock to Conway, NH) was very different from the first half. After leaving North Woodstock you travel east and quickly find yourself in Lincoln, NH. This is a bit of a major tourist area as there is a large ski resort and all the tourist attractions that go with it there. It would be a great place to take a break, grab a bite to eat, and do some shopping if you find that sort of thing fun (for my dad and I, shopping and fun are two words that are never found in the same sentence). From Lincoln, on Route 112, the look and feel of this motorcycle road changes quite a bit. First, the road pavement becomes almost perfect because the road, as we were to find out, is a pretty busy road for tourists checking out the White Mountains National Forest. And (I didn't like this part) the roads get wider to allegedly allow folks to pull over to take pictures or get out and enjoy the scenery. So, although the road surface was better, the added traffic detracted from the ride in my opinion. However, if the Motorcycle Road Quality diminished a bit, the improvements in scenery more than made up for it as the scenery went from very good to great! This area is simply beautiful (particularly in the fall!) and the road climbs higher and higher and there are multiple scenic pullouts and the views are expansive with some particularly nice scenic pullouts when you get up to the Kankamagus Pass (~2800 ft above sea level). I highly suggest you take the time to pull over and enjoy each of these pullouts near the pass as they offer different yet great views of the surrounding White Mountains. After going through the pass the road starts to descend slowly and continually meanders left and right with changing views along the way. The wide open mountain views give way to great views of the raging Swift River that parallels the road. And, you begin to pass through lush woods, once again creating a great canopy of trees over the road below. The fall colors in this area were nearly at their peak and so our ride through here will definitely be one of the high-points of our trip. However, it is worth mentioning one more time that a negative factor was the traffic levels. Overall both the first half and second half of "Rte 118 to 112 - Kancamagus Hwy" are great roads with the Route 118-half having some great new pavement along with no traffic and the Route 112-half having fantastic scenery with a more traffic to contend with.
From Conway we continued east on Route 113 until we crossed over into Maine and entered the town of Fryeberg with our sights were set on the last motorcycle road of the day - "Route 113 Border Cruise - from Gilead to Fryeburg". When I was researching this route, I had a strong feeling based on the Rider Ratings that this could be a good route. I was wrong. It was a fantastic route! It started out similar to much of what we've seen in Vermont and New Hampshire up until this point … nice scenery however, often times with spotty road conditions (are you noticing a pattern here regarding New England roads?!). Yet things got more promising the further north we headed and one section (I'm guessing say 5 miles long) was brand new pavement (thinking it was a year or less old). And, making this even more wonderful was that the particular section they paved was the hilliest we had seen yet … like a roller coaster, it went up and down for a few miles. The hills in fact were so steep in sections that I found myself breaking pretty hard as I came up to the apex because I simply could not see the road ahead of me and had no idea what it was going to do. That section stayed pretty straight and so I would have been fine, and in fact, would love to had gone back and rode that hilly section again, this time with a little more speed. Just after that section we saw a few signs announcing that we were approach a portion of road that is not maintained in the winter and closed. This is nearly always a sign of a great section of road approaching because it normally indicates that you are entering a very remote area, usually at or near the top of a mountain, and often times with little to no traffic … sometimes however, this also means though that the government can let the road conditions get pretty rough before it is resurfaced and/or it sometimes results in sections of gravel or dirt. Lucky for us, this time we got lucky and not only found a great stretch of narrow, lonely, road traveling through pristine areas but also a road in really good condition for the most part as a large section of this pavement looked to be paved within the last 3-5 years. The way this unfolded for us was we saw a few signs that said "Approaching Traffic Gate" (referring to the fact that in the winter, if/when they close the road, they place a steel gate across the road to keep traffic out) and the road turned up into the hill we were riding next to for the last few miles. The road quickly narrowed to what seemed like nearly the width of what I would consider a wide driveway (what I would estimate was about 1.5 car lanes wide). A few years ago, I spent a week in Ireland and so many of their country roads resembled driveway width and this had that feel. Quickly we were driving through a "tunnel of trees" with amber and light green colored leaves. For a while I thought we had strayed off into some very rich person's driveway and actually slowed down because of it. But soon enough it became apparent we were simply traveling on an idyllic road as it wound its way up an unending hill all while under a completely perfect canopy of leaves. I think if Walt Disney ever created a park for motorcycle riders, this would have been one of it's rides … it was perfect … for miles. After what I'm guessing was about 10 miles of this bit of motorcycle road paradise, it slowly came to an end as the road widened and the trees became less dense, and the scenery changed to more open views of mountains and a large river to the west. Soon we came to US Hwy 2 and our - "Route 113 Border Cruise - from Gilead to Fryeburg" was over. My dad pulled up next to me and we both had the same smiles on our faces and spent the next few minutes exchanging what we liked the most about that great run … we had a lot to say!
We still had a few hours to go to our hotel so we got on US Hwy 2 to Maine Route 142 and so we headed up to Kingfield, ME for the night. where we stayed at the Herbert Grand Hotel. Now, this place is definitely not for everyone. I saw it online and could tell it was one of these old majestic hotels that was many years past it's prime … but I kind of like taking chances on those kind of places and my dad and I were glad we did. The hotel has an interesting history and the owner's mother, Dawn, a retired schoolteacher from Indiana, works the front desk and couldn't have been a friendlier host. Apparently there are popular ski areas nearby here and they get the majority of their business in the winter but that worked out great for us as we got our room for a steel ($89 including tax, 2 twin beds, and a shower/tub) and we ate at a very nice restaurant across the street called Longfellow's (we each had a great seafood medley pasta dinner) and turned in for the night.
Thursday: From Central Maine down to the Atlantic Coast
Today's goal is to get from Kingfield, Maine down to the coastal town of Camden, ME and along the way we are going to ride a motorcycle road called - "Northern Route 201". So in the morning we left Kingfield and headed east toward Solon, ME and got on 201 heading north and started our route. And, just like the description says on MotorcycleRoads.com, the scenery and the nicest parts of the road really begins after passing Moscow and heading north. At that point the road starts by hugging the shores of Wyman Lake, and continues north through the Kenebec River Valley and on to Jackman, ME, just a few miles from the Canadian border. This is a great road as it offers great scenery, some twisty sections, and the road pavement conditions are above average for Maine (my guess is this is because the route is a popular way to get to/from Canada so road maintenance on 201 is a higher priority than many other roads).
From there we he headed south towards the Maine coast with our end point being Camden, Maine. We continued heading south along Route 201 for a while and just past I-95 we got on Route 137. I had no intention of videotaping any more that day but a few miles into the route it looked too promising so I pulled out two of my GoPro cameras, set them up and started collecting footage. Unfortunately, one of the GoPro's failed just a few minutes into the route but the other GoPro (mounted to my helmet) worked for the duration of the ride on Route 137 (I will get those videos edited and posted later). Route 137 from the town of Freedom to Belfast is a great ride. The scenery changes from the thick wooded forests we had been riding in for most of our Maine riding to more open fields with expansive views of farms, hills, vintage farm houses & barns, and generally very good road conditions throughout. One particularly nice area is when you get to an area called Hilltop (the map did not show this as a town name yet a gas station and a restaurant in this area carried the name "Hilltop") just east of Freedom, Maine. The views from this hilltop area are great as you seem to be able to get great views from any angle you look. Unfortunately, the pictures and video, like many other sections on this trip, do not do the moment or the scenery I saw justice. We continued on Route 137 into Belfast and then made our way along the coast and US Route 1 along the Atlantic coast down to Camden, Maine and it was as pretty of a ride as you can imagine.
Essentially, this area is the Bar Harbor area of Maine and full of small quaint coastal towns. All with their own fishing & maritime history and heritage. Today the towns seem to be more focused on the tourism industry than fishing but with that comes homes, hotels, & downtowns that are maintained in pristine conditions … a very welcoming mix of locals who are just going about their daily lives living in classic Maine coastal towns and seemingly not realizing how much they are envied by so many of the travelers who invade their streets each year from all over the world. We stayed in a very nice yet modest hotel just a 1/2 block from the main section of town (in fact they built a very nice little pedestrian bridge over a river and directly into town just a few yards from the hotel entry way) and there were a few guests from England there, as well as Americans from all over the country (they had an interesting map in the lobby with pins indicating where all the guests were from and nearly every country had at least one pin on it). After checking in we eventually went out to accomplish one of my dad and I's bucket list items - eat at a Maine seafood restaurant right on the coast … I ordered a whole lobster … a big red crustacean on a plate staring at me, a cheesy plastic bib tied around my neck, and some strange shell cracking and poking tools in my hand … just like I've always imagined (yet, come to think of it, have no idea where I had seen this before).
After lunch we got on the bikes and were exploring around town and some local roads and we just kinda stumbled on to a great little road just northeast of town. In town it started out as Mountain Street (that alone told us we may be on to something) and as it left town it simply became Route 52. The road at one point crested a hill then dove down in front of a large exposed rock face of a mountain (later we learned this was Mt. Battie), the road turned to the west to avoid the mountain and now ahead just over the road you could see the view of a lake breaking through the trees. Soon the road turned north and off to the west was the large picturesque lake complete with a few rowing teams in those narrow rowboats rowing along the deep blue waters (the lake it turns out is called Megunticook Lake). My dad and I road along the shore under a canopy of leaves that had started to turn from green to gold and with the views of the gorgeous lake directly off to our left. The portion of the route that hugged along the lake unfortunately wasn't very long (2 miles I estimate) but we turned around and road it in reverse, then quickly went back to our room, loaded up our video equipment and went back to ride the road again. Like so many times on this trip, capturing still pictures with a camera was a problem so I relied on getting still pictures from the video footage I collected and I will post a few stills from that (and, again, when I figure out how to edit all this video footage, I'll bundle it together in a single video and post it for you all to enjoy … this particular ride I imagine will be one of the best on video!). After that we went back to the hotel, ended up sitting around a fire pit at the hotel with about 8 other guests, roasting marshmallows and I watched & listened to my dad as he entertained "the crowd" with his stories, jokes, and observations.
Friday: From the Coast of Maine down to the Coast of New Hampshire
We've had great weather all week long and I knew our luck with the weather would probably not last the whole trip and today was the day we paid for it. The forecast left no room for hope as it simply said "Chance of rain: 100%." Our original plan was to drive down the coast on US Route 1, visit, videotape, and photograph the coastal scenery (particularly some of Maine's world renowned lighthouses) and eventually make it to Portsmouth, New Hampshire. Well, with rain looming for that day, we readjusted our plans and decided to simply get down to Portsmouth the quickest way possible…via the dreaded interstate highway!!!! Another reason I decided not to remain defiant in the face of the forecast was that I had to bring so much equipment (particularly all the video/camera/electronics) that I literally did not have room for my rain gear. I knew that was a risk when I made the decision to go without it, but in the back of my mind I was optimistic (in this case that's a euphemism for stupid) in thinking I wouldn't have to deal with any rain and I figured if I needed to, in a pinch I could by some kind of rain gear on the trip. I also knew my leather jacket and a few layers of t-shirts would keep me dry enough up top, I could suck-up a few hours of miserable wet driving as I'd done it many times in the past, and I at least invested specifically for this trip in some rain proof boots so at least my feet would stay warm and dry. So we headed out that morning, and my dad lent me an extra pair of waterproof pants he had, he got on his rain gear, and we made the long, cold, rainy, drive from Camden to Portsmouth. "On paper" the route should take only about 2.5 hours. But when you factor in the rain, all the toll booths (complete with the whole routine of pulling up, finding neutral on a stubborn Harley-Davidson transmission, removing wet gloves, digging a wallet out of rain pants & blue jeans with cold & stiff fingers … you get the picture), the gas stops, etc, the trip probably took closer to 4-hours and we pulled in around 1 at the hotel in Portsmouth, NH. We spent the rest of the night drying out our clothes and boots and planning how to finish up our trip tomorrow with a long ride to Albany, NY for my dad and an even longer ride for me into NY city.
Saturday: Get Safely from Portsmouth, NH to New York, City, Return the Bike, Fly Home
The goal of today is to get safely from Portsmouth, NH to East Chatham, NY where my dad and I will split off. He'll go northeast into Albany, NY and I'll turn south and head down into NY city. Today's drive is "more about miles than smiles" as I need to make sure my dad gets to his truck/trailer well within daylight hours so he can load up the bike and start heading east back to Indiana. And, so I can get the bike back to Queens in NY, turn it in to the rental place, figure out how to get to Liberty Airport over in New Jersey, get through security again, and get on the plane back to Colorado. Google maps said the trip should take about 4.5 hours but I want to play it safe and ride with my dad as close as I could to Albany before I needed to split off and head south to NY so I picked a route that basically had us riding across Massachusetts primarily on I-90 and this added another 2-hours to my trip. Long story short we rode down from Portsmouth, NH, followed the 495 bypass around Boston, and got across the entire state of Massachusetts in very good time. My dad and I pulled over on the side of the Interstate, hugged goodbye, and he headed east and I went south. My ride into NY city was pretty uneventful as it was a Saturday and the traffic was pretty tame. Overall I was really concerned about how riding in New York city would go and thanks to my iPhone, Google Maps, my headphone, and a handlebar mount I brought, I made it to the rental place about 2.5 hours before I needed to be at the airport. From there it got a little more "eventful" when I asked the manager at the rental place what the best way to get to Liberty Airport was and he said (with a "dear in the headlights" look on his face) - "you wanna go where??" Not to drag you all in to the intricacies of my trip planning here but to make a long story short, when I booked the flight out here to NY I had to do it very quickly and the lady on the phone from United Airlines told me I would fly into LaGuardia Airport in NY and fly out of Liberty Airport in New Jersey. I told her I didn't want to do that and she told me I didn't have an option as there were no flights out of LaGuardia and then proceeded to tell me how Liberty is just as easy to get to. Me never traveling to NY city before, took her at her word and booked the trip with the two different airports. The reality is to get to Liberty from Queens NY will take at least an hour cab ride on a good day. Unfortunately for me, today was not a "good day" as the Brooklyn Bridge was shut down today for maintenance … so, long story short, I took a crazy ~2-hour cab ride to get to the airport on time and after that and a $200 cab fare, I was at the airport. Oh well, "live and learn" … in this case, "live, pay, and learn". But I got on the plane on time, sat by a family that was just returning to Denver after being on "The Tonight show with Jimmy Fallon" (their 8 year old son demonstrated "The Backscratcher 2.0" and won $5000), and flew back to Colorado to end my "2015 New England Fall Motorcycle Trip."
And that brings me to the end of these log entries. I did the math and it looks like I rode the bike for somewhere around 1100 miles. No accidents, no breakdowns, great roads, great scenery, & even better memories! I hope you enjoyed this. I'd love to get feedback from you positive or negative so if I ever get to do this again and can improve. Feel free to private message me on Facebook or send me an email by clicking on the Feedback button near the top of the site.
As always, I hope to provide you with insightful motorcycle riding community information to help you get the most out of all of your motorcycle experiences. If you have suggestions or better yet, a favorite motorcycle road of yours that is not yet registered at MotorcycleRoads.com, please add it to list of registered motorcycle roads.
To have a monthly summary of motorcycle riding community updates/new information sent straight to your email box, sign up for our monthly (or less) eNewsletter.
Follow us on Facebook and/or Twitter.
---
---
---