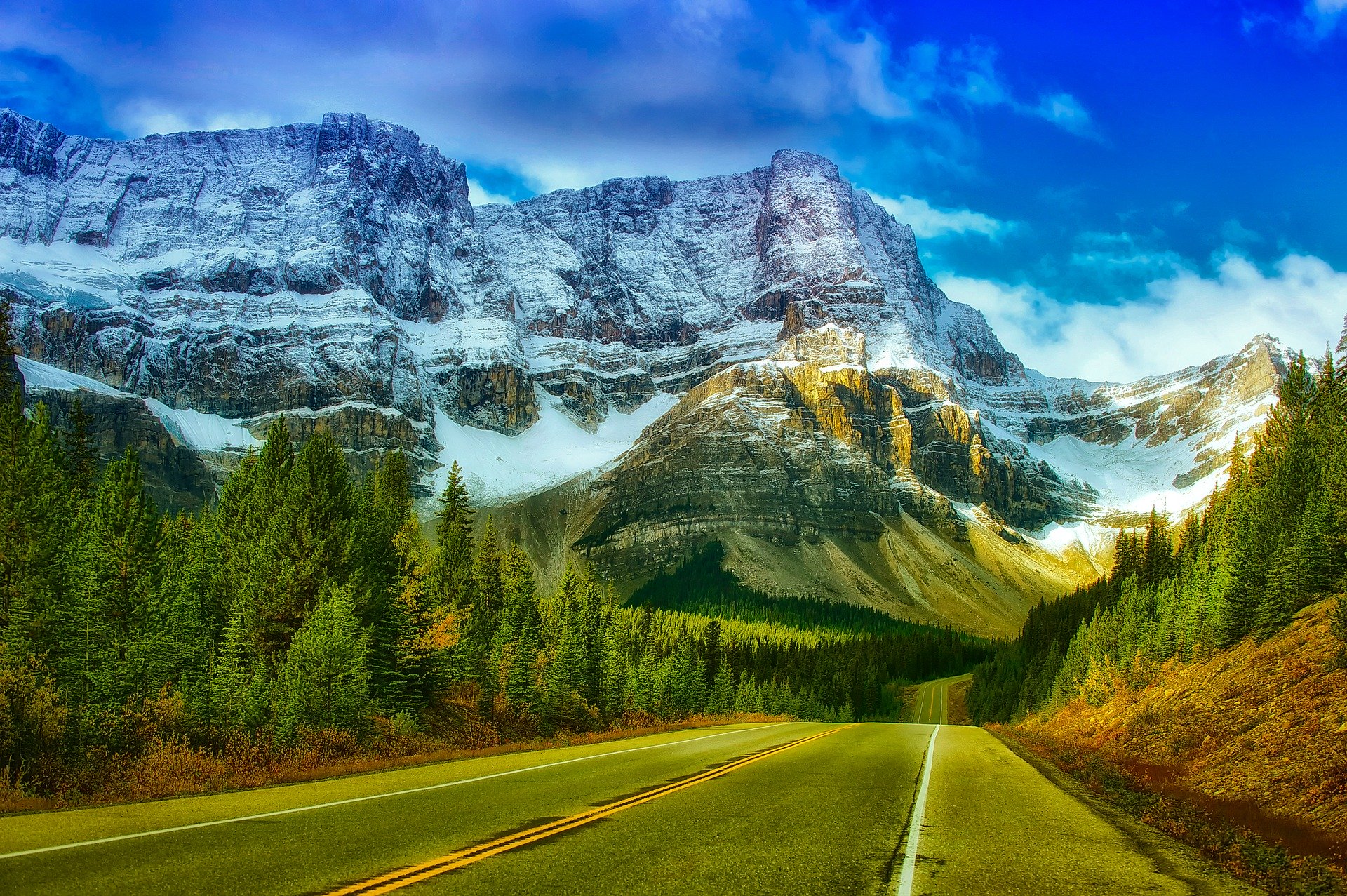 Where are the Best Motorcycle Rides in Canada?
Report based on a full-year of 2019's data of the Best Motorcycle Roads in Canada
To produce this listing, we looked back at all of the 2019 motorcycle riding season's data gathered at the MotorcycleRoads.com (McR) web site. The data comes from the literally millions and millions of web site page views shown on McR over the course of 2019 to various motorcycle riders who come to the site (over 1 million riders visit motorcycle roads annually). If you would like to know how the motorcycle ride popularity ratings are calculated, see Note 1 at the bottom of this article.
At the time of publication of this article, Canada currently has 43 registered motorcycle rides on McR and each year this number increases as riders contribute more of their favorite motorcycle rides in Canada to the collection.
For a complete listing of registered motorcycle roads in Canada per province refer to the below bar chart:
Summary of the Top 5 Best Motorcycle Rides in Canada:
When we move past the discussion of the number of registered motorcycle roads for each Canadian province and on to the discussion of the best motorcycle roads in Canada, we see that three provinces host the top five motorcycle rides in Canada: New Brunswick, Nova Scotia, and British Columbia. The distribution of the Top 5 motorcycle rides in Canada is shown in the graphic below where you will see one of the rides is in New Brunswick, one is in Nova Scotia, and three are in British Columbia.
So, with all that Canadian motorcycle road summary information behind us, let's get right into the description of the Top 5 motorcycle rides in Canada and string out a little more suspense by starting the list in reverse at the #5 ranked motorcycle ride in Canada and working our way to #1 ride in Canada:
From the north end of Nanaimo, head north on Hwy 19 to the end of Nanoose Bay. (Approx. 8 miles). Turn right at the Petro Canada gas station on to NW Bay Rd. This road will end up at the south tip of Parksville, where you turn right on to the Island Hwy. (aka The Old Island Highway). From here, it's approximately 48 miles to Courtney. When you reach Parksville, you enter the tourist strip of the mid island road, but it doesn't last long, only a few miles. As you continue north you'll reach the beach side community of Qualicum Beach, which again is geared for tourists however it only lasts for a couple of miles. Fortunately, it's all along the side of the ocean. From here scenery varies for the entire route to Courtney as you meander through stretches of forest, along beaches, small communities, rural farms and residential areas. Parksville and Qualicum have the largest number of amenities, particularly resorts or hotels, restaurants, shopping malls etc. If you want to lengthen your trip by about 7 beautiful miles, then turn right on to Powder Point Rd, which is only 1 mile from the start of your trip. When you turn on to NW Bay Rd., Powder Point Rd changes its name to Fairwinds Dr, then to Dolphin Dr, and finally to Stewart Rd, before it connects with NW Bay Rd. again, but it's a continuous loop so it's easy to navigate. This stretch has gentle curves to begin with but once it turns into Dolphin Dr, you'll be navigating some very tight blind corners though a beautiful residential area.
Start off in Sussex, NB which is a picturesque and friendly town in our Southern section. Take Highway 1 East for about 15 km until you reach Exit 211. There, turn onto Route 114 and head for Fundy National Park on the Bay of Fundy. This 44 km stretch of relatively good road winds through forest and passes lovely rivers and creeks. The portion through the Park is just lovely, and the road improves, too. Watch the steep hill and sharp turns as you descend into the charming village of Alma. Stop there for the "best seafood chowder in the world" at the Harbour View Restaurant and General Store. Remain on 114 as you motor through Riverside-Albert and Hillsborough which are nice towns and fairly well-serviced. You will enjoy great views of the Bay of Fundy on the first leg of this journey. You can also go onto Route 915 for the first past of the trip; it is less well-maintained but a fun ride also. Not to be missed are the Hopewell Rocks just before Hopewell Cape. Pass through Riverview on your way to your end-point in Moncton where you will find everything that a city offers, including good motels, seafood and great nightlife.
Start on Highway 99 in West Vancouver, BC heading north to Squamish, Whistler (Sea To Sky Highway, Pemberton to Lilloet (Duffy Lake Road). Cross the bridge out of Lilloet then head south on Highway 12 to Lytton. At Lytton head south through the Fraser Canyon on Highway 1. Just before Hope turn west on Highway 7 following the north shore of the Fraser River. All the way into Vancouver. The traffic starts to build up past Mission so if you want to slab back to the city cross the bridge at Abbottsford to Highway 1 west. This route takes you through the most spectacular scenery in the world. The first part takes you along the fjord of Howe Sound with mountains and ocean views that change with each curve. Whistler is a world class resort that you can easily spend a couple of days. After Pemberton it is pure wilderness through the snow-capped mountains. The twisties are so great you can't decide whether to challenge your skills or slow down and enjoy the scenery. After Lilloet you leave the lush west coast forests and enter the desert valleys of the Fraser Canyon. Again more twisties with snow capped mountains. At Hope you enter back into the lush forests. Easy ride back into the city.
Leaving Hope, BC, Canada, not far east of Vancouver, head east on Highway 3 (Crownest Trail) to Osoyoos, and continue on to Christina Lake. Mountain highways sweep from small town to small town. You'll have a lot of roadside turnout to stop to take a break while admiring the view. Take in incredible mountain views, forests, and desert during this trip, including some great little towns and even oddities like the very strange Spotted Lake, right before Osoyoos. Being a mountain highway, you're going to have a few bumps in the road, but it's nothing that you'll remotely be concerned about. Instead, enjoy the fact that you'll rarely be vertical during large portions of this trip, taking in sections that range from long, sweeping curves to quick, twisty switchbacks. This highway is paved and contains some of the best twisties in Canada, as you ride a roller coaster, alternating between climbing a mountain highway to cruising across high plains and then descending into gorgeous valleys. You cross bridges with great views and follow cool clear rivers!
The Cabot Trail is nearly a full loop in Nova Scotia on Cape Breton Island. I added a section of road (the Trans-Canadian Hwy (105)) that makes it a full loop. One suggested way you could do this loop would be to start at Buckwheat Corner. From Buckwheat corner you get on to the Cabot Trail and start out by going west but just stay on it as takes you west over to Margaree and then loops you north up to Pleasant Bay and then east west on Cabot Trail to Nelis Harbour and finally south back down to St. Anne's all on the Cabot Trail. From Saint Ann's, you should head south on the Trans-Canadian Hwy (105) to Buckwheat Corner and you've completed your loop. A nice town to see and spend the night is Baddeck (ba-DECK) which is just a bit east of the start of the route (start of the route being at Buckwheat Corner). It will take a little over an hour from the Causeway to Baddeck and the next morning it's about a 20 minute ride to the start of the Cabot Trail. It will take you from 3 hrs to, well, several days to cover the distance to Margaree Harbour - it's that beautiful. After Margaree Harbour there are several routes back to the causeway-take your pick. This highway is carved out of mountains and is never far from the ocean. The mountains are not like the Rockies but perhaps similar to the Appalachians, approx. 500 meters high and heavily forested. It is a famous road and is easily researched on the internet. Lots of pictures and travel info there.
---
Honorable Mentions
These two routes are fairly new entries to our database, and therefore did not make our algorithm cut. They are, however highly rated, and cannot be excluded in any discussion of Canada's top motorcycle roads.
Icefields Parkway (Alberta, Canada)
Take Trans-Canada Hwy/BC-1 west out of Banff. Continue on AB-93 north to Jasper National Park. This ride takes you through the heart of the Canadian Rockies past teal glacial lakes. Some of the most beautiful mountain scenery in North America! Good quality pavement all the way through.
The Pacific Rim Highway - Hwy 4 (British Columbia, Canada)
The eastern end of this highway is located 45 kms north of Nanaimo in Qualicum Beach, at the intersection of Hwy 19 and Hwy 4. The western terminus is located in Tofino. This gorgeous route twists and turns through mountains, rivers and valleys. At the western end is the Long Beach Unit of The Pacific Rim National Park Reserve of Canada, which offers many hiking trails through rainforests and beaches. The majority of Highway 4's length is composed of a two-lane configuration. The pavement is in good condition. Many sweeping curves, but nothing too technical.
---
Canada Has a "New Ranger In Town" ... meet Canada's Road Ranger - Paul Cuddy and learn about the new MotorcycleRoads.com Road Ranger Program.
---
Interested in more motorcycle ride articles like this?
Note 1: All facts and figures below were gathered during early Jan 2019 and will change over time as new motorcycle roads are added to the collection.
Note 2: How were these popularity ratings calculated?
A motorcycle road's popularity can be based on a wide variety of factors. Our analysis considered some obvious indicators of motorcycle road popularity such each roads' "Rider Rating" scores (star ratings) and which motorcycle road description pages were visited the most. But, the analysis dug deeper and looked at some less obvious yet valuable indicators of a motorcycle road's popularity such as how often a given motorcycle road was added to riders' "To Ride" lists, how often a given motorcycle road was added to riders' "Rode it" lists and enthusiasm indicators such how often photos and/or videos were uploaded for a given road and which roads are attracting the most buzz among motorcycle roads indicated by those roads that are receiving the most number of new/recent comments. For the sake of being consistent and as objective as possible we use a popularity algorithm that "crunches those number" and allows us to develop a ranking of the popularity of each of the motorcycle roads used as a basis for this guide.
---
---

Conclusion
As always, I hope to provide you with insightful & valuable motorcycle riding community information to help you get the most out of all of your motorcycling experiences.
I'm always looking for ways to make MotorcycleRoads.com better and more helpful so if you have any suggestions to improve the website, just contact me through the Feedback button you'll find near the top of every page. And as always, if you have a favorite motorcycle road of yours that is not yet registered on MotorcycleRoads.com, please get that favorite of yours "on the map" by registering it at MotorcycleRoads.com. Registering a motorcycle road (or event, or club, or place) is quick and easy and you'll be helping out our motorcycle riding community!!!
Lastly, if you are interested in having a monthly summary of motorcycle riding community updates/new information sent straight to your email box, sign up for our monthly (or less) eNewsletter. Or, if you are into social media, follow me at Facebook and/or Twitter.
---
---