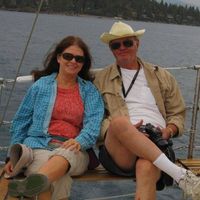 Posted By
By Neil Albaugh (10 McR Points)
on Jul 26, 2021
Creator :
Motorcycle Type : Other
I've driven this route many , many times over the years, beginning in the mid-60s. I worked at the National Radio Astronomy Observatory in Green Bank back then and frequently drove from there to Charlottesville, VA. This was Route 250 from Bartow through Staunton & Waynesboro to Charlottesville. The road is twisty through the mountains with very brief stretches of straight roads and lightly traveled. I drove my '65 Pontiac GTO (a Royal Bobcat equipped with 2 big aircraft landing lights) and timed myself between Bartow and Staunton. After reaching Staunton there is too much traffic to continue with elan. In the late '60s I regularly drove my Ferrari 250GTE over the same route and found that my times were significantly better than the Pontiac even though it had a smaller engine and over 100 BHP less power. It was simply a fun drive with the sound of its V12 echoing back through the mountains. A word of caution- in the Fall, leaves accumulate on the pavement and they are slippery, especially when they are wet. Also, beware of big logging or coal trucks as the opportunities for passing safely are limited.
Was this road review helpful?
0 riders
found this road review useful.
Signup For eNewsletter
Updates on new roads, events, motorcycle news and more!